Across Lawrence Saturday night, partygoers made merry with friends as they anticipated 2006's arrival.
Three hours before midnight Kansas University seniors Jessicah White and Jade Tittle showed off their festive moods in the form of hats that spelled out "Happy New Year."
They sat inside the Eldridge Hotel's bar in their black party dresses and watched the clock while they planned their next move around downtown Lawrence.
"We like to celebrate any holiday to the max, but you always have to do it with New Year's," Tittle said.
"There's really no reason for it. We just do it," said White, of their enthusiasm for holidays.
The two said they hoped to be somewhere at midnight to partake in a New Year's toast.
Also downtown, Matt Williams, of Lawrence, celebrated with his wife at his place of employment, The Sandbar.
While Williams didn't go all out in his dress for the 1980s retro party, he said he planned to bounce around to a few other parties and places throughout the night.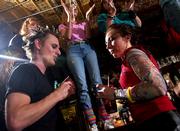 But Williams said he didn't single out New Year's Eve as a special event. He treats it as a regular night, but other enthusiasts tend to come out and make it more crowded everywhere, he said.
Williams also shrugged off the notion of making any New Year's resolutions.
"I know I'll never live up to them," he said.
The Sandbar was also a stop for Sarah Johnson, of Lawrence, and her friends. She was unsure whether they would take part in the midnight festivities there or somewhere else.
"This is usually the last place we go, so the fact that we're here at 8 (p.m.) might say something," Johnson said.
Lawrence dispatchers said at 10 p.m. that the calls coming in appeared to not be out of the ordinary for a Saturday night, even though it was New Year's Eve.
Earlier in the night in west Lawrence, Trisha Brice and her boyfriend, Andrew Mattson, both of Lawrence, played a game of darts at Astro's Billiards and Bar.
While the two said they planned to spend the night at several places, they declined to consider the evening such a special event.
"It's just another day really," Mattson said. "But it's always great to be out with your friends."
Brice said she had thought about a resolution for 2006.
"I'm working on quitting smoking," she said.
Also at Astro's, Mark Tunstall, of Lawrence, said he resolved to quit smoking "cold turkey."
Tunstall played pool with friends as he pondered what the new year would bring.
"It's nice to get a change and to start over again," he said.
Patrick Bliven, of Lawrence, shot a game of pool with Tunstall, and Bliven said he viewed New Year's Eve celebration as a big deal.
"I just wanted to get in one last pool game before the year's over," he said.
But Bliven hoped to resist change in 2006 as much as possible.
"I had the best year of my life. I'll try to keep on doing what I'm doing," he said.
Copyright 2017 The Lawrence Journal-World. All rights reserved. This material may not be published, broadcast, rewritten or redistributed. We strive to uphold our values for every story published.