Tonganoxie — Tonganoxie High's girls basketball squad obviously was listening when fans were chanting, "We want a T-town beat down," in the opening minutes of a Class 4A sub-state Monday against Kansas City Piper.
The Chieftains beat the Pirates every way possible, 72-32.
"It was a great game, and the fans really liked it," said Tonganoxie's Ali Pistora, who had 12 points and eight assists. "I really like playing at home. Our last (home) game : we had to make it special."
Tonganoxie was able to capitalize on a mix of Piper errors. The Pirates sent the Chieftains to the free-throw line 16 times in the first half, matching the total points scored for Piper at halftime.
"We have a lot of athleticism and quickness, and we really preach to them to get to the rim and try hard to be very aggressive," Tonganoxie coach Randy Kraft said. "And that works out for you, and you get a lot of free throws."
Rachel Bogard made five of six free throws before halftime en route to a game-high 17 points.
But the big story for Kraft's team was rebounding. Piper was outrebounded, 38-19, and collected only six boards in the second half.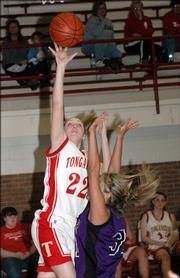 "We've outrebounded our opponents all year long, but not by that margin," Kraft said. "That was a big difference in the game."
Despite the two-to-one rebounding ratio, no Chieftain finished in double digits. Tracie Hileman had a game-high eight boards.
In the absence of injured Elizabeth Baska - the team's third leading scorer on the season - the Chieftains still were able to get four players to finish with double figures in scoring. Rebecca Bogard (15) and Hileman (11) also had more than 10 points.
So dominant were the Chieftains that their 33-point lead going into the final quarter warranted a running clock.
"We did awesome," Rachel Bogard said. "We came out there knowing that we'd have to win to move on."
Kraft had his starters play the first minute of the fourth quarter - after they already had been sitting since the three-minute mark in the third - so the fans could give them one final standing ovation.
"Watching the bench players go out there was pretty exciting," Pistora said. "We always scrimmage them at practice, and they're always the ones on defense : so we never get to see them play offense. It was a special game."
Tonganoxie 72, K.C. Piper 32
K.C. Piper 8 8 13 3 - 32
Tonganoxie 19 21 22 10 - 72
Piper - Allie Nichols 9, Andrea Sutter 4, Allison Brown 5, Marissa Smith 6, Michelle Selbe 8.
Tonganoxie - Ali Pistora 12, Shannon Carlin 8, Kelley Stauch 2, Rebecca Bogard 15, Rachel Bogard 17, Tracie Hileman 11, Christy Weller 3, Chrissie Jeannin 2, Ashlee Lohman 2.
Copyright 2018 The Lawrence Journal-World. All rights reserved. This material may not be published, broadcast, rewritten or redistributed. We strive to uphold our values for every story published.