Norman, Okla. — Even after three straight one-point victories, Oklahoma still had some "Sooner Magic."
Terrell Everett made two free throws with 0.6 seconds left to give No. 19 Oklahoma its fourth one-point victory in four games, a 67-66 triumph over Oklahoma State on Monday night.
After Jamaal Brown had given the Cowboys (15-14, 5-10 Big 12) a one-point lead with two free throws with 4.7 seconds left, Everett dribbled up the left sideline and collided with Byron Eaton, who was called for a foul.
"I was just trying to get past him, and he jumped in front of me," Everett said.
Everett, who played the final 12:43 with four fouls, stepped to the line and hit both free throws, sending an already-standing sellout crowd into a frenzy.
"In that situation, you've got to keep the ball in front the best you can and make them throw up a desperation shot," said Sean Sutton, who has taken over as Oklahoma State coach while his father, Eddie Sutton, is on a medical leave of absence.
"I think Byron felt like Terrell was not going to get it up, and he was going to drive it hard because he's their best playmaker. He tried to get in position to force him to pass the basketball, and that's what happened."
Michael Neal of Oklahoma knocked the final inbounds pass to Everett, and the Sooners (20-6, 11-4) celebrated by huddling and hopping at halfcourt, then slapping hands with fans in the front row.
Each team took the lead twice in the final minute.
Eaton beat the shot clock with a tiebreaking three-
pointer from about 26 feet to put Oklahoma State up 64-61 with 34 seconds left. The Sooners got a quick basket from Taj Gray at the other end before JamesOn Curry missed the front end of a 1-and-1 with 14 seconds left.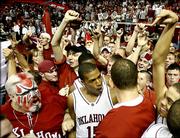 Kevin Bookout put Oklahoma into the lead with a two-handed jam with 8.8 seconds to play, but he missed the free throw that would have completed the three-point play. Nate Carter of the Sooners backtapped the rebound, but Brown grabbed it and raced down court before getting fouled by Neal.
"That was a perfect pass for a layup," Oklahoma coach Kelvin Sampson said of Carter's rebound. "It was one of those nights where plays like that were happening all night long. That's why they call it Bedlam."
Brown hit both his foul shots with 4.7 seconds remaining, but that left too much time for an Oklahoma team that already had won three straight one-point games for the first time in school history. Before the current stretch, Oklahoma never had won more than two games in a row by one point.
But Everett provided a little more "Sooner Magic" - a term coined originally after a series of dramatic comebacks by the school's football team in the 1970s.
"That call could have went either way," Sampson said. "Sometimes you've just got to have a break."
Sutton was upset with the call.
"There was a long pause," Sutton said. "I wasn't sure what he was going to call. I'll probably get reprimanded for this, but I believe that in games like this, officials ought to have to come in and answer questions and let you guys ask them what they saw."
Addressing the crowd on senior night, Sampson said he loved Gray and Bookout "but right now I'm loving Terrell just a little bit more."
No. 5 Gonzaga 75, San Francisco 72
Spokane, Wash. - Adam Morrison scored 34 points, but it was his assist on Pierre Marie Altidor-Cespedes' three-pointer with one second left that lifted Gonzaga over San Francisco. The win completed the Bulldogs' second undefeated run through the West Coast Conference in three years.
No. 16 West Virginia 67, No. 8 Pittsburgh 62
Morgantown, W.Va. - Kevin Pittsnogle, held scoreless by Pittsburgh two weeks ago, had 26 points in his final home game to lead West Virginia over the Panthers.
Copyright 2018 The Associated Press. All rights reserved. This material may not be published, broadcast, rewritten or redistributed. We strive to uphold our values for every story published.