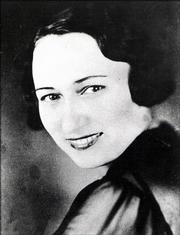 Tampa, Fla. — Effa Manley became the first woman elected to the baseball Hall of Fame when the former Newark Eagles co-owner was among 17 people from the Negro Leagues and pre-Negro Leagues chosen Monday by a special committee.
"This is a historic day at the Hall of Fame," shrine president Dale Petroskey said. "I hoped that someday there would be a woman in the Hall. It's a pretty proud moment."
This year's Hall class - 18, including former reliever Bruce Sutter - is by far the biggest in history, breaking the record of 11 in 1946. There are now 278 Hall members.
Mule Suttles and Biz Mackey were among the 12 players selected, along with five executives.
Buck O'Neil and Minnie Minoso, the only living members among the 39 candidates on the ballot, were not elected by the 12-person panel.
Ray Brown, Willard Brown, Andy Cooper, Cristobal Torriente and Jud Wilson were the other former Negro League players elected. Five pre-Negro Leaguers - Frank Grant, Pete Hill, Jose Mendez, Louis Santop and Ben Taylor - also were chosen.
Alex Pompez, Cum Posey, J.L. Wilkinson and Sol White were the other executives elected.
The new inductees will be enshrined with Sutter - elected by the Baseball Writers' Association of America last month - July 30 in Cooperstown, N.Y.
Copyright 2018 The Associated Press. All rights reserved. This material may not be published, broadcast, rewritten or redistributed. We strive to uphold our values for every story published.