Kansas City, Mo. — Men and women dabbed at their eyes. People hugged quietly and ducked into little private spaces to speak in hushed tones.
The news hit the Negro Leagues Baseball Museum like a bomb. What was supposed to be a grand celebration of the life of one of this town's most beloved citizens now had the feel of a funeral.
Seventeen people from the Negro Leagues and pre-Negro Leagues eras were voted into the National Baseball Hall of Fame, but not Buck O'Neil.
Not Buck? Almost everyone in Kansas City thought the immensely popular 94-year-old would be a shoo-in when a 12-person committee considered a list of 39 candidates.
Sure, his statistics during a long career as a player and player/
manager were not the greatest.
But he did win two Negro League batting titles. He did have a successful career as a player/manager with the Kansas City Monarchs, and he did become the first black coach in the major leagues.
Most importantly, everyone thought, were the contributions he has made traveling the country keeping the legacy of black baseball alive.
He has been the face, voice and inspiration behind Kansas City's Negro Leagues Museum. In the opinion of many, those 17 who got in ahead of him never may have been considered at all if not for O'Neil's tireless efforts to tell their story at a time when the country was ready to forget all about them.
A few hundred of O'Neil's friends and supporters gathered at the museum early Monday afternoon to be part of a happy celebration. They could hardly believe the bad news.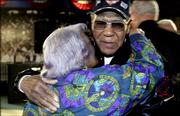 Finally, it was left to O'Neil to do what he does best and lift everyone spirits.
"God's been good to me," he said. "You can see that, can't you? It didn't happen. They didn't think Buck was good enough to be in the Hall of Fame. That's the way they thought about it, and that's the way it is, so we're going to live with that. Now, if I'm a hall-of-famer for you, that's all right with me. Just keep loving old Buck.
"Don't shed any tears 'cause I'm not going to the Hall of Fame."
Everyone broke into applause.
"You think about this," he said. "Here I am, the grandson of a slave. And here the whole world was excited about whether I was going into the Hall of Fame or not. We've come a long ways. Before, we never even thought about anything like that. America, you've really grown, and you're still growing."
A Florida native, O'Neil has made Kansas City his home since moving out of the Deep South to escape racial persecution.
"I couldn't attend Sarasota High school. That hurt," he said. "I couldn't attend the University of Florida. That hurt. But not going into the Hall of Fame, that ain't going to hurt me that much, no. I'm still going to be in Cooperstown representing these guys that's in the Hall of Fame. So shed no tears for me. This is old Buck."
For him and all the others, just to have an opportunity to get into the hall is worthy of celebration itself, he said.
"Before, I wouldn't even have a chance. But this time I had that chance.
"I didn't get in because not enough people thought I should be in. But I DID have the chance. I was on the ballot, man."
The fact that 17 people got in and not O'Neil made it a bittersweet day for museum workers. On the one hand, they were happy so many got what they feel is recognition that was long overdue.
But on the other, they love Buck. Without him, there may not be a Negro Leagues Museum.
"Today our city and our entire community celebrates our hometown hero, Buck O'Neil, who is a hall-of-famer in our hearts," said congressman Emanuel Cleaver of Kansas City.
"It is clear the Baseball Hall of Fame has made a terrible error in not inducting Buck on this ballot. It is rare that an entire community rallies around a single person, but our city loves Buck, what he stands for and his indomitable spirit."
Copyright 2018 The Associated Press. All rights reserved. This material may not be published, broadcast, rewritten or redistributed. We strive to uphold our values for every story published.