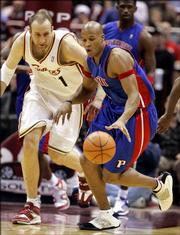 Cleveland — Rasheed Wallace helped Detroit to back-to-back wins over the Cleveland Cavaliers and had a few laughs at their expense.
Wallace scored 24 points, and Richard Hamilton added 22 to lead the Pistons to an 84-72 victory Monday night, their sixth straight.
Wallace made four three-pointers a night after he split open Zydrunas Ilgauskas' head with an elbow during Detroit's 90-78 home win. He was fined $5,000 by the NBA on Monday for the flagrant foul.
The two tangled again in the rematch, but Wallace simply laughed when Ilgauskas shoved him to the floor in the second quarter.
"I guess that was his wannabe retaliation," Wallace said. "I started laughing and got a (technical foul) for that."
It was one of five technicals called against the Pistons, who complained all night about the officiating.
"We get three, four, five technicals, but all we do is win. And that's the ultimate spit in the face," Wallace said.
LeBron James led Cleveland with 26 points.
Copyright 2018 The Associated Press. All rights reserved. This material may not be published, broadcast, rewritten or redistributed. We strive to uphold our values for every story published.