Athens, Tenn. — A convicted killer and the dog trainer accused of helping him escape from prison in a dog crate waived extradition to Kansas on Monday at separate hearings, where inmate John Manard was smiling and the married woman 20 years his elder was not.
In their two weeks as fugitives, Manard, 27, and Toby Young, 48, accumulated electronics, musical instruments and a parakeet while hiding out in a vacation cabin in Alpine, near Dale Hollow Lake. Items found inside the home included cash, a laptop computer, a new printer, jigsaw puzzles, books, a PlayStation, an adult DVD, two new guitars, an amplifier, a mandolin and sheet music to the movie "O Brother, Where Art Thou?"- the tale of escaped convicts on the run in the South during the Great Depression.
The two also left behind unspecified "sexual items," Deputy U.S. Marshal Danny Shelton said. Workers who rented the cabin to Young and Manard said they thought the fugitives were a couple on a "romantic getaway."
Manard rented the cabin at the East Port Marina and Resort under the name Mark West, according to the marina's owners, Clyde and Vickie Craig.
"He told my wife that he wanted privacy, and we were just abiding by his wishes," Clyde Craig said.
Shelton said investigators also found loaded handguns at the cabin.
Kelli Suggs, a spokeswoman for the East Port Marina and Resort, said Young and Manard had the place largely to themselves for two weeks.
"We assumed it was a romantic getaway," Suggs said. "All we've been able to come up with is they pulled us up on the Internet ... a small marina that is out of the way."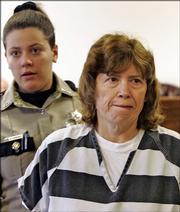 Vickie Craig said the U.S. marshals took some items from the cabin but that many things had been left behind. She said she was trying to figure out what to do with them when the Kansas Department of Corrections called and notified her it intended to come and pick up some of the items.
As for the parakeet, "We are trying to find a home" for it, Shelton said.
Cabin rented in advance
The Craigs said a man called and reserved the cabin in early February. On Feb. 8, the marina received a money order to reserve the cabin, which rents for $900 per month.
The money order appeared to be written in a woman's hand, they said.
Manard called on the night of Feb. 12 to say he was near St. Louis and would be arriving late, and the couple pulled into the marina between 3 and 4 a.m. on Feb. 13, Vickie Craig said.
"I didn't bother them the first day. They had their blinds closed," she said.
Ronnie Suggs, the Craigs' son, said that he met Manard during his stay at the cabin, and nothing about the escaped convict struck him as unusual.
"He wasn't edgy," Suggs said. "You wouldn't think he was on the run."
Suggs was also there to tour the cabin after marshals caught the two. He said the room was full of items he associated with young lovers on a road trip - tons of sheet music, a map of Kentucky, sex toys and skimpy outfits.
Lansing prison escape
Related content about the Lansing prison escape
"You would think they were honeymooners," Suggs said.
Last Wednesday or Thursday, Manard called and asked to reserve the cabin for another week. The Craigs said they were shocked when they learned of the couple's arrest on Friday.
"None of us had any clue that there was anyone on the run," Vickie Craig said.
Young and Manard were captured after an interstate highway chase late Friday that ended near Athens. The chase began after officers spotted the pair outside a Chattanooga mall more than 90 miles south of their cabin.
"After being locked up for 10 years, not seeing the world at all since he was first locked up, he probably wanted to get out and see some places," Shelton said in a telephone interview.
Extraditions waived
Young wore a striped prisoner jumpsuit to Monday's hearing in Athens and told a judge she wanted to return to Kansas. Young ran a dog rehabilitation program working with inmates at the Lansing Correctional Facility in Kansas, and authorities said she used her access to the prison to help Manard escape.
"I'm just sorry," she told reporters outside the courtroom.
Young also said in a pouting voice that she hadn't been allowed to make phone calls or speak to her family. Asked if she wanted to tell her family and friends anything, Young said: "I love them."
Manard, wearing a prisoner jumpsuit and smiling, also waived extradition Monday at a hearing in Chattanooga, about 45 miles southwest of Athens. Manard was being held in the Hamilton County Jail because of security concerns, officials said.
While signing the extradition waiver, Manard asked Hamilton County General Sessions Court Judge Ron Durby a question that couldn't be heard clearly by spectators. The judge responded: "Put you in another dog cage and send you back, I imagine."
The fugitives had been sought since Feb. 12, when authorities say Manard climbed into a dog crate and was driven away by Young in a Safe Harbor Prison Dog Program van. The guard on duty never checked the crate, apparently because he trusted Young, prison officials said.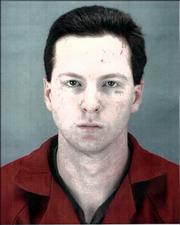 Tip led to Tennessee
Shelton said federal, state and local authorities began looking for the pair in Tennessee last week after "receiving information." He declined to elaborate.
They were spotted by officers Friday leaving a shopping mall in Chattanooga and were arrested after Manard wrecked their pickup while trying to elude capture.
Manard had been serving a life sentence for first-degree murder, aggravated robbery and possession of firearms in the 1996 killing of an Overland Park, Kan., man during a carjacking.
After the arrest, he told authorities Young was a hostage but evidence indicated otherwise, Deputy U.S. Marshal Ray Stewart said at a news conference Saturday.
Neither Young nor Manard said anything in court Monday that provided new details about their escape.
Manard and Young will remain in Tennessee jails until officials from Kansas pick them up, authorities said.
Local reaction
Midge Grinstead, executive director of the Lawrence Humane Society, said she was relieved to learn that Young was alive.
"I think she was with a pretty unruly guy," said Grinstead, who has met Young and worked with her on occasion - for example, last year when Young took in four dogs from the Lawrence shelter that were seized from a home in Miami County.
Grinstead described Young as a nice person and an exceptional dog trainer, which has made the events of the last two weeks baffling for the folks at the Lawrence shelter.
"What possesses someone to throw away their life? I just don't get it," Grinstead said. "I think she needs to be punished like anybody who breaks the law. She helped get somebody who is very dangerous out in the public."
Grinstead lauded the Safe Harbor program and said she would like to see it continue.
Copyright 2017 The Lawrence Journal-World. All rights reserved. This material may not be published, broadcast, rewritten or redistributed. We strive to uphold our values for every story published.