Brussels, Belgium — The European Union agreed Monday to grant $143 million in urgent aid to the Palestinians before a government led by the Islamic militant group Hamas takes power, a move aimed at preventing a financial collapse that could add to the chaos in the Middle East.
But the EU kept silent on what it would do once Hamas assumes control of the Palestinian government.
French Foreign Minister Philippe Douste-Blazy said the aid was required to avoid "economic chaos" from paralyzing the Palestinian Authority. It also was designed to show European support for the Palestinians remains undiminished at least until Hamas establishes its control.
The EU's decision was welcomed by the U.S. State Department.
"It is a sign that we are all working together," spokesman Adam Ereli said in Washington.
The Bush administration, which is not providing assistance to the Palestinian Authority this year, is due to announce shortly whether it will contribute to Palestinian projects.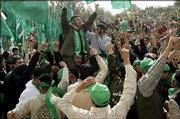 Both the European Union and the United States have ruled out assistance to a Hamas-led government, which will succeed the interim government under Palestinian President Mahmoud Abbas, Ereli said.
There is concern the Palestinian Authority will collapse without international aid and that Iran could fill any funding gap, further radicalizing the Palestinians and reducing Western influence.
For its part, the EU is taking a wait-and-see attitude.
"We need to have some patience now" to allow for government formation talks, said EU External Relations Commissioner Benita Ferrero-Waldner.
Officials said the emergency EU aid package designed to tide the Palestinian Authority over comprises:
¢ $48 million to pay for the Authority's energy and other essential utility bills. These bills will be paid by the EU directly to the utilities, based on invoices validated by an international audit firm.
¢ $76 million for health and education projects to be paid to the United Nations Relief and Works Agency, which provides education, health care, social services and emergency aid for Palestinians in the Gaza Strip and the West Bank.
¢ $21 million for salaries of Palestinian Authority workers.
Copyright 2018 The Associated Press. All rights reserved. This material may not be published, broadcast, rewritten or redistributed. We strive to uphold our values for every story published.