It's been nearly five months since Dawn Davis stood inside the burning building, calculated her chance of death at 100 percent if she stayed put, and then jumped.
"I was going for 50-50" odds of living, she said.
She broke her back, her tailbone, her wrist and her pelvis, and suffered a head injury. Only in the last week or so has she been able to start sleeping through the night.
Her boyfriend, Eli Greenbaum, still walks with a limp from his broken ankles. He can't do his graduate biology fieldwork in the mountains of Burma, as he'd planned. Whenever he hears Davis' heater kick on, it startles him and reminds him of the explosions that night.
These are just a few of the ways the Oct. 7 fire at the Boardwalk Apartments continues to affect the survivors. The fire killed three people - Kansas University student Nicole Bingham, electrician Jose Gonzalez and social worker Yolanda Riddle - but it injured and displaced many more.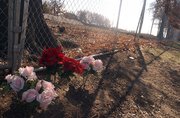 Raju Ahmed, who jumped from a third-story window and crawled to safety, is still using crutches. Leigh McHatton, who ran through the fire in flip-flops with a blanket over her head, still has painful burns on her hands and feet. Joel Lamberto and his brother, Victor, can't lift heavy objects because of the injuries they suffered jumping out their window.
One by one, these and other victims walked, limped or hopped on crutches to the front of a courtroom last week to describe their experiences. At the end, a judge found there was enough evidence to try 20-year-old former resident Jason A. Rose for charges including murder and arson.
Boardwalk Apartments Fire
More on the Boardwalk Apartments Fire
The hearing also brought out testimony from a fire investigator who said the 41-year-old building's design contributed to the fast spread of the fire.
The 76-unit building had been inspected by the fire marshal in the weeks before the fire and passed its inspection. But the fire investigator, U.S. Bureau of Alcohol, Tobacco, Firearms and Explosives Agent Douglas Monty, testified this week that the wooden slats and support beams that ran along the front of the building helped the fire spread vertically.
He said the partly enclosed stairwells acted like a chimney that funneled heat to the upper reaches of the building, and he said overhangs along the front of the building had the effect of trapping gases and radiating intense heat downward. Furniture left on the walkways provided easy fuel once the fire started burning, he said.
At least one attorney investigating a possible civil lawsuit attended last week's hearing.
Meanwhile, the remaining seven buildings at Boardwalk continue to house a mix of young families, students, workers and immigrants.
The area of the destroyed building is now a heap of gravel, enclosed by a chain link fence, with three bouquets of silk flowers placed in the ground outside the fence. Signs at the complex advertise great specials.
A manager could not be reached for comment on Friday, and officials at Stinson Morrison Hecker, the Overland Park law firm that is the registered agent for the building's ownership company, have declined comment.
Some residents, including Nicole Krambeer, 27, who has been in the complex for a year and a half, are planning to move out. Krambeer said the management had been helpful to residents and had been reminding people about fire safety - for example, urging them to clear items off the walkways in front of buildings. But it hasn't been enough to quell some residents' concerns, she said.
"A lot of my neighbors moved out immediately," she said. "They were afraid it could happen again."
But some who moved in after the fire don't share that concern or the frightening memories.
Alex Miller, 21, a Johnson County Community College student, said he'd moved in about a month ago and hadn't thought much about the fire.
"It was cheap, so I moved in," he said.
Copyright 2018 The Lawrence Journal-World. All rights reserved. This material may not be published, broadcast, rewritten or redistributed. We strive to uphold our values for every story published.