KISSIMMEE, FLA. — The Houston Astros want their money. Jeff Bagwell wants to play.
The standoff between the NL champions and one of their most recognizable players took the expected awkward turn Friday when Bagwell arrived at spring training.
Bagwell had surgery in June on his right shoulder, and the Astros argue that Bagwell is too hurt to play. They filed an insurance claim in January to recoup about $15.6 million of the $17 million Bagwell is guaranteed this season.
"This is what I do, this is who I am," he said. "I can't just go away. That's not in my nature. I'm going to need a couple of weeks to see where I'm at and then make a decision from there."
The 37-year-old first baseman fielded grounders, made light throws and spent most of the team's first full-squad workout in the batting cage. He seemed relaxed but felt like the team's front office was watching every move.
"Just to get out here, get back on the field, I felt like it was a little bit of a trial camp today," Bagwell said. "I felt like I almost had to try and prove something, but yet I've got to sit back and say, 'No, I don't, I just have to get ready for April 1."'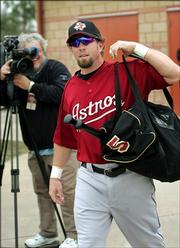 Bagwell, the Astros' starting first baseman for 15 seasons, has said the team wanted him to quit and that the situation had created a rift that may never be resolved.
He said the start of this spring training was "a little awkward," with his role on the team questioned for the first time.
"For so long, it's been, 'OK, he's playing first base. Don't even worry about him in spring training,"' Bagwell said. "But it's a different story now, and I fully understand that. That part has been a little weird for me, but that's the way it is right now."
Bagwell has dealt with the arthritic shoulder since 2001 and says the team never has raised the issue until now.
Copyright 2017 The Lawrence Journal-World. All rights reserved. This material may not be published, broadcast, rewritten or redistributed. We strive to uphold our values for every story published.