Downtown Lawrence is set to become a more colorful place.
City commissioners on Tuesday will consider signing off on a new $90,000 plan to change how and when flowers are planted along Massachusetts Street to ensure that beautiful foliage is in bloom through more months of the year.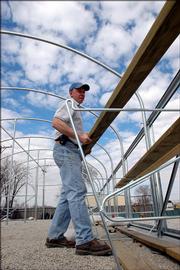 "Hopefully, except for the dead of winter, you'll see color downtown all year around," said Mark Hecker, parks and facilities superintendent for the city's Parks and Recreation Department.
The plan's primary recommendation is to change the landscaping strategy for the approximately 150 planters that line Massachusetts Street. The study suggests the department buy more mature plants that take less time to bloom. It also recommends that the department make four separate plantings from early spring through fall to increase the odds of year-round blooms.
The department already does several plantings but purchases cheaper, smaller plants or bulbs that take several months to mature to bloom.
"We do plantings in the early spring, but sometimes you don't see the color until June," Hecker said.
That leaves parts of March, April and May void of foliage at a time when many residents and visitors expect to see sure signs of spring.
Members of Downtown Lawrence Inc. had pressed city commissioners to adopt a change. Bob Oderkirk, president of Downtown Lawrence Inc., said his group was happy with the recommendations. And he said the annual increase in city spending for the program would be worth it.
"Downtown Lawrence plays a large part in the overall image of the city," Oderkirk said. "Having the downtown really shine will help the entire image of the city."
The report also suggests that intersections at Sixth and Massachusetts and 11th and Massachusetts could have new monument signs welcoming visitors or arches that would make it clear that people are entering the downtown area.
The report also recommends that new midblock crosswalks with adjacent planters be added on New Hampshire and Vermont streets. Areas for plantings at each of the corners along Vermont and New Hampshire streets also could be added.
City Commissioner Mike Amyx said he's all for spending extra dollars on additional plants and staffing to care for them, but he's not sure about adding more planters and other elements.
Photo Gallery

Downtown Beauty
A city report includes these suggestions to beautify downtown:
"Anytime we can do something that cleans up and brightens our downtown, that is a good investment," said Amyx, who owns a downtown barber shop. "But we have a lot of other significant items we have to take care of around town, so some things will have to wait."
The $90,000 annual price tag would not pay for any of the new crosswalks or planters. Instead it would pay for new plants and one full-time maintenance worker and several part-time employees who would do watering. The report estimates that new crosswalks would cost about $35,000 apiece, new corner planting areas $90,000 each and new gateway monuments $40,000 each.
Commissioners will discuss the report at their weekly meeting, which begins at 6:30 p.m. Tuesday at City Hall, Sixth and Massachusetts streets.
Copyright 2018 The Lawrence Journal-World. All rights reserved. This material may not be published, broadcast, rewritten or redistributed. We strive to uphold our values for every story published.