There are several reasons Rodgers and Hammerstein's "Oklahoma" continues to be so popular, including the beauty and genius of the songwriting and its quintessentially American character. Like "The Music Man," "Oklahoma" depicts an America that has a small connection to historical reality but a large connection to social ideals about character, honesty, hard work and family. It's also a ripping good show full of great tunes and clearly defined good and bad characters.
A capacity audience at the Lied Center encountered all this and more in the NETworks national tour of "Oklahoma" on Thursday night. Despite technical difficulties with lights and sound that stopped the show in the first act, the evening was a success.
Adapted from the award-winning Trevor Nunn/Cameron Mackintosh London and New York revivals, this tour of "Oklahoma" retains most of Susan Stroman's brilliant choreography, which this cast executed with energy and strength, especially in the Act II opening number, "The Farmer and the Cowman," led with spunky enthusiasm by Pat Sibley as Aunt Eller.
Most of the dance numbers were impressive, including the "Out of My Dreams" ballet, which always comes as a bit of a surprise in this cowboy musical; however, the ladies of the chorus and Jessica Lavin as Laurey delivered a beautiful performance. The men, led by J. Michael Zygo, were rip-roaringly spectacular in "Kansas City." Zygo is a complete musical theater package: a singer, dancer and actor, and he can twirl a rope like nobody's business. Sarah Shahinian as Ado Annie was also a wonderful comedian who kept Annie under control: funny and a bit flighty, but very likable. She sang "I Cain't Say No" with gusto.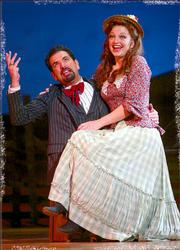 The leading couple, Lavin and Spencer Plachy as Curly, also were quite skilled but not as strong as one would hope in a professional tour. Lavin's sweet voice needed more projection and character, and her rather bland take on the complex Laurey character was not memorable. Plachy was a handsome and funny Curly, and he's an actor with good timing; however, his voice didn't have the resonant presence one wants from the virile cowboy.
Other strong performances were put in by Sorab Wadia as Ali Hakim and Andrew Lebron as Jud Fry - the man everyone loves to hate. Lebron really succeeded in conveying a physically menacing Fry who is still uncomfortable in his own skin, nervous and full of self-doubt.
Anthony Ward's set and costume design re-created in this tour bring fresh life to the show, evoking the beauty of the Oklahoma territory in all its wide-open grandeur. The "Oklahoma" orchestra kept tempos brisk and bright under the direction of Kasey Graham.
In the wake of the techno-spectaculars that characterize the current crop of Broadway hits, one might be tempted to call "Oklahoma" dated or passe. Never believe it. This musical, which changed the face of American musical theater, is still as fresh and inspiring as it was 50 years ago. That it remains one of our most cherished musical theater vehicles is a testament to its power and genius.
Copyright 2018 The Lawrence Journal-World. All rights reserved. This material may not be published, broadcast, rewritten or redistributed. We strive to uphold our values for every story published.