Last month Cottonwood Inc. said goodbye to a building it had leased for 18 years but had long outgrown.
On Friday, the nonprofit agency, which employs people with disabilities, celebrated a move to a new $1.1 million, 16,000-square-foot building at its complex at 2801 W. 31st St. It serves as a workplace and warehouse.
"We wanted to improve the working environment for the people we support, and we'll find enough storage space for the products that we have," said Sharon Spratt, Cottonwood chief executive. "This is a terrific day for us."
Dozens of local community leaders, business people and relatives of employees joined the Cottonwood staff for an open house and ribbon-cutting ceremony in what is now called Building III.
"Cottonwood is one of this community's special, special blessings," Lawrence City Commissioner Sue Hack said.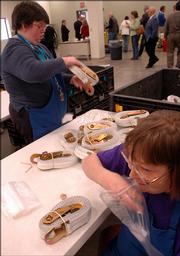 The agency is an asset for Lawrence, agreed Ted Haggart, a member of the board of directors for the Lawrence Chamber of Commerce.
"It's the work that takes place in here that adds so much value to our community," he said.
Cottonwood provides a variety of residential, employment and support services for about 600 people with disabilities from Jefferson and Douglas counties. It secures outsource contracts to do work, mainly packaging, for local and national businesses. Among its jobs is making cargo straps for the U.S. Department of Defense.
Nearly 40 clients will work in the new building which, unlike the leased building, has air conditioning. In the old building, workers had to start work early in the morning and quit before midafternoon when summer heat was at its peak, said J.R. Condra, Cottonwood's director of work services.
"This is just basically a more modern building," he said.
Lawrence resident Richard Vigna was among those attending the open house. His sister was a Cottonwood client for about 30 years. She died last year, he said.
"I don't think I can say enough about Cottonwood," he said.
Cottonwood was established in 1972. Its original building was only 8,000 square feet and housed administrative offices and work space. In the mid-1980s a second building was constructed for additional services and new contracts. Both buildings were remodeled in 1993 and a 19,000-square-foot-addition was completed in 2000.
Groundbreaking for the new building was in June.
Copyright 2018 The Lawrence Journal-World. All rights reserved. This material may not be published, broadcast, rewritten or redistributed. We strive to uphold our values for every story published.