Slow tempo, lock-down defense and plenty of fourth-quarter poise.
The Lawrence High boys basketball team couldn't solve that trifecta the first time it faced Free State this season - or the second.
Using a carbon-copy game plan from their victory in the first city showdown Dec. 22, the Firebirds again executed what coach Chuck Law had in mind Friday night, claiming a 56-49 victory before a standing-room-only crowd in their home gym.
It marks the first regular-season sweep in the series since the 2002-03 season, when Free State also won both games.
"It's not so much about taking care of them twice," Law said. "This was about us, no matter who the opponent was, building momentum going into sub-state."
Of course, painting the town green for the second time in two months is a good way to do that.
LHS (10-10 overall, 4-7 Sunflower League) shot just 35 percent from the floor, and, like the first meeting, the Lions' two premier gunners - senior Tyler Knight and junior Chance Riley - came up well shy of their season averages, combining for just 12 points.
Photo Gallery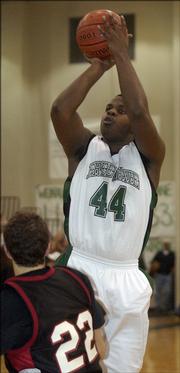 Free State boys vs. Lawrence High
"We worked on some things in practice and some different things for them to look at," Free State junior Kyle Schreiner said. "The guys we put on them, they were guarding their butts off."
Still, the Firebirds (8-12, 4-7) trailed, 31-28, after three quarters, and LHS coach Chris Davis found plenty of positives about his squad's performance to that point.
"We were pretty happy. We thought we were where we wanted to be," Davis said. "Right up until there was about 2 1/2 minutes left, we felt we were in a position to get things done."
Just one problem - Free State's penchant for taking a lead in the fourth quarter and never giving it back.
The Firebirds used a 12-3 run to open the final stanza and a six-point margin. Then, lending credence to Davis' argument, they scored seven straight points in a 60-second span to push the lead into double digits with 1:27 remaining.
At that point, Law asked his backcourt to salt the game away.
"Our three guards that we had on the court in the fourth quarter were fantastic tonight," Law said. "The ball in their hands and the decisions they were making, that keyed the victory."
Among that group was Schreiner, who finished with a game-high 15 points and, following similar late-game performance against LHS earlier this year and against Olathe Northwest earlier this week, has grown comfortable in the role of killjoy come crunch time.
"I like to be in that position," Schreiner said. "If guys are willing to get me the ball, I can step up and hit the shots. I think that's a plus for us when we get down to that stretch of the game."
Fellow guard Nick Devin added 12 points for the Firebirds, while big men Christian Ballard and David Green each chipped in 10.
Cameron Hershiser paced LHS with 13 points on the strength of three three-pointers.
Free State will now take a modest two-game winning streak into Thursday's Class 6A sub-state opener, when the sixth-seeded Firebirds will travel to third-seeded Topeka.
Conversely, despite its No. 4 seed and a home date against No. 5 Olathe North, LHS enters the postseason riding a skid of five losses in its last six games.
"It's lose and go home now. I don't think it will be all that tough," Davis said. "I was impressed with our guys and how they were after the game. I think they'll be ready to play."
2005-06 Journal-World Cup
2005-06 Journal-World Cup
Standings
LHS: 10
Free State: 17
LHS varsity wins: 10
Free State varsity wins: 17
Note: The girls track and field teams recorded a tie during the Sunflower League meet.
Copyright 2018 The Lawrence Journal-World. All rights reserved. This material may not be published, broadcast, rewritten or redistributed. We strive to uphold our values for every story published.