Surprise, Ariz. — Will the real Emil Brown finally emerge?
There was the Brown who hit .200 with eight home runs in 209 big-league games with Pittsburgh and San Diego from 1997 to 2001. For the next three years, Brown never surfaced in the majors, playing in the Tampa Bay, Cincinnati, St. Louis and Houston organizations. He even spent part of the 2004 season playing in the Mexican League after St. Louis released him. Brown had become a minor-league journeyman.
In 2005, Brown surfaced in the Kansas City Royals' camp as a nonroster invitee and forced his way onto the roster with a .421 batting average, five home runs and 20 RBIs in 26 games. After a slow start, a .161 average in April, Brown hit his way into the Royals' lineup, batting .301 the remainder of the season.
Brown finished the season with a .286 average and 17 home runs, while leading the Royals with 86 RBIs, 75 runs and 10 stolen bases in 11 attempts.
So, was last season a fluke?
"I don't know how to answer that," Brown said. "Even if you have two good years, you've got to do a third. If you have three, you have to do it four. I've got to prove I can do it again, that the Royals did not catch lightning in a bottle or that it was a fluke. I don't think so, but there will always be questions."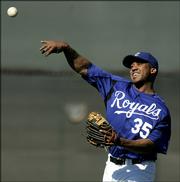 Brown won his arbitration hearing and will make $1.775 million this season after earning $355,000 last year. The Royals had countered with a $1.4 million offer for 2005.
"If I lost my case, I wasn't going to lose any sleep over it," Brown said. "Winning it worked out for me. I've got a little extra money. My goal is not winning the arbitration case but to be prepared for this season."
Brown said he wanted to prove he was worth the new contract.
"I like that," Royals general manager Allard Baird said. "That says a lot about him. Most people would kind of rest on what they did. That's a good attitude. This guy has had to prove so much in his life, I don't think this is anything different. If he keeps that attitude, I think good things are going to happen for him."
Brown is no overnight success story. He is 31 and a late bloomer after being drafted in the sixth round in 1994 by Oakland out of Chicago Harlan High.
"I'm not going to say I have a chip on my shoulder," Brown said. "I'm not even thinking about last year. I can't wait to get it (2006) started."
Brown is slated to start in left field this season, moving from right field to make room for Reggie Sanders.
Copyright 2018 The Associated Press. All rights reserved. This material may not be published, broadcast, rewritten or redistributed. We strive to uphold our values for every story published.