Moscow — Rescuers paused repeatedly in hopes of hearing survivors trapped under concrete and metal beams Thursday after a snow-laden roof collapsed on one of Moscow's biggest markets, killing at least 56 people.
Investigators blamed the disaster on a buildup of snow after a harsh winter, design flaws or poor maintenance.
Workers used metal cutters, hydraulic lifters and pick axes to clear the rubble from the Basmanny market and knelt down to shout into the wreckage in search of survivors. Dogs helped with the search and bright searchlights illuminated the area after dark.
At least 56 people were killed and 32 injured, said Emergency Situations Ministry spokeswoman Natalya Lukash.
Emergency officials said it was impossible to say how many people had been in the market at the time of the collapse, but survivors and witnesses said there could have been more than 100.
The market, where produce, meat and dairy products are sold along with household goods, was closed for retail sales, but wholesalers were getting an early start. Some market workers also were reportedly sleeping in the building.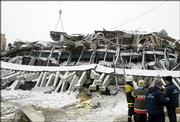 Officials expressed relief the roof hadn't collapsed later Thursday when the building would have been filled with shoppers taking advantage of the first day of a three-day holiday marking Defenders of the Fatherland Day, which honors Russia's armed forces.
Virtually all the victims were believed to be workers from Azerbaijan and other former Soviet republics, among the thousands who have poured into the Russian capital to fill low-paying jobs.
Machines were brought in to blow warm air into the rubble to try to keep victims alive in the near-freezing temperatures.
Trapped survivors called relatives using cell phones, helping rescuers find them, said Yuri Akimov, deputy head of the Moscow department of the Emergency Situations Ministry. But hours passed with no rescues.
Copyright 2018 The Associated Press. All rights reserved. This material may not be published, broadcast, rewritten or redistributed. We strive to uphold our values for every story published.