Haskell Indian Nations University has lost one of its dearest friends, Scotty Harjo.
"A generation has passed," said Phil Homeratha, women's basketball coach at Haskell. "There are no more Scotty Harjos. We'll never see another one like him."
Harjo, a longtime coach and residential assistant at Haskell, died Wednesday in Lawrence. He was 78.
"My father was a gentleman's gentleman," said Harjo's youngest son, John Scott Harjo. "It didn't matter if you met him for five minutes or if you knew him for 50 years, he had a positive influence on you. He was that kind of person."
At Haskell, Scotty Harjo was well-known for having fielded a fast-pitch softball team that both created and fed a sense of community at the school in the 1960s and 1970s.
"Back then, every small town had a team and Lawrence had a really good league," Homeratha said. "We played everybody."
He added: "Scotty was the team's core."
Harjo, a Seminole and Creek from Bowlegs, Okla., also was known for helping Haskell students adjust to life away from their families and their reservations.
"I came to Haskell in 1957. I was 14 years old," Homeratha said. "I was raised by my grandparents. They were good people, but I never had a father. And my reservation was poor - all reservations are poor.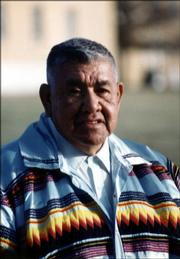 "I'd say that for 90 percent of the students in my dorm, Haskell was the first place they'd lived that had running water indoors and electricity."
Harjo, he said, was quick to take students under his wing.
"He taught us how to grow up. He was a mentor, an adviser," Homeratha said. "He was like a member of your family. I came to see him as my father."
Harjo and his wife, Esther, often shared their home with Haskell students who had nowhere to go in the summer.
"I spent a summer with them, and they never charged me a thing," Homeratha said. "It wasn't because they didn't need the money; it was because they cared about me. They didn't want to burden me; they wanted me to be successful."
Homeratha's experience was not unique.
"Scotty was just a totally giving, caring person," said Jerry Tuckwin, a longtime coach at Haskell. "He always saw the potential for good in people, and he always tried to bring it out.
"If someone was in need, Scotty couldn't say no."
While in the U.S. Army, Harjo, a demolition expert, was awarded two Bronze Stars for his actions during the Korean War.
He often told the story of coming face to face with a Chinese soldier during a night patrol.
"This one guy had me dead to rights, but he hesitated," Harjo said during a 2001 interview. "He saw my skin color and probably asked himself, 'Is that one of our guys?' While he was thinking about that, one of our guys shot him."
Harjo later played football at Bacone College in Muskogee, Okla. The team won the national junior college championship in 1952.
Harjo joined the Haskell staff in 1957. He retired in 1994.
"Scotty Harjo will be missed," said Marvin Buzzard, vice president of university services at Haskell. "I'll never forget him."
Funeral services are at 11 a.m. Monday at the First Southern Baptist Church.
Copyright 2018 The Lawrence Journal-World. All rights reserved. This material may not be published, broadcast, rewritten or redistributed. We strive to uphold our values for every story published.