Belgrade, Serbia-Montenegro — Gen. Ratko Mladic, the fugitive Bosnian Serb commander accused of orchestrating Europe's worst massacre of civilians since World War II, has been located in Serbia, and authorities are negotiating his surrender, security officials said Tuesday.
Mladic, considered the most ruthless commander of the Balkan wars of the 1990s, "has not yet been arrested," one official who is close to the operation to find Mladic told The Associated Press. He spoke on condition of anonymity because he was not entitled to speak to the media.
Another security official, also demanding anonymity because of the sensitivity of the information and fears of jeopardizing negotiations, confirmed that Mladic's "hiding place has been discovered in recent days."
Both officials refused to specify the exact whereabouts of Mladic's hideout, but the private Beta news agency said the former commander was found on Cer Mountain, some 60 miles west of Belgrade on the border with Bosnia. Beta did not cite its source.
Serbia is under intense pressure from the European Union and the U.S. to capture Mladic, charged by the war crimes tribunal with genocide for allegedly ordering the massacre of 8,000 Muslim boys and men in Srebrenica and for the 1992-95 siege of the Bosnian capital, Sarajevo.
State news agency Tanjug, quoting Bosnian Serb BN television, earlier reported that the 62-year-old Mladic had been arrested and was "being transported" to the U.S.-run air force base in Tuzla, eastern Bosnia. Mladic was to be flown to the U.N. war crimes tribunal in The Hague, the report said.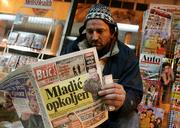 But Srdjan Djuric, spokesman for Prime Minister Vojislav Kostunica, told the AP in a statement that Mladic had not been arrested. He called the Tanjug report a "manipulation" meant to derail the government's efforts to detain him.
The conflicting reports caused confusion in Belgrade. There have been numerous incorrect reports in the past that Mladic had been located or captured.
Serbia, seeking to establish closer ties with the European Union and NATO, faces renewed international isolation if it fails to extradite Mladic to the U.N. tribunal in The Hague.
EU officials had given Serbia until the end of February - in a week - to hand Mladic over to The Hague and threatened to freeze EU membership talks otherwise.
Officials at the EU and NATO said Tuesday they had no information about Mladic's reported arrest.
Copyright 2018 The Associated Press. All rights reserved. This material may not be published, broadcast, rewritten or redistributed. We strive to uphold our values for every story published.