After winning on their home floor a week ago, Southwest faced Central again, this time in the semifinals of the Warhawk Invitational. Wednesday's game mirrored the previous one in nearly all ways. Central jumped to an early lead and Southwest came back to win big, 57-41, and advance to the finals of the tournament.
Marquee players Dorian Green from Southwest and Chuck Hunter from Central put on a show, combining for 36 points and leading their respective teams on the court. Hunter scored Central's first seven points sparking a run that gave Central an early 10-2 lead. Southwest wouldn't be put down that easily and came to within four points at the end of the quarter.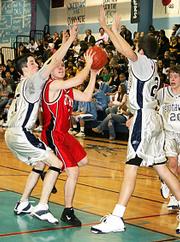 Both teams played physical as bodies flew all over the court for loose balls.
Green snagged his own rebound and put the ball back through to tie the game early in the second quarter. Shortly after, Green came back down the court to sink a three-pointer to give Southwest its first lead of the game at 17-16. Southwest took that lead and never looked back.
"Tight defense and steals in the second quarter brought us back," Southwest forward Lance Kilburn said. "Forcing those turnovers and finishing on the offensive end was the difference."
Southwest grabbed four steals and converted them to seven points, which proved to be the difference-maker as Southwest built a 10-point lead heading into the half.
Photo Gallery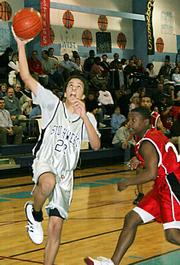 Southwest v Central
Stu Coldsnow, Bobby Davis and Paul Eltschinger all were major factors behind Green to put Central away. Coldsnow tallied 11 points, second to Green's 17, while Davis and Eltschinger combined for 16 more. Hunter led all scorers with 19 points and got help from fellow Central guards Jack Sanner and Denzell Payne, who together added 14 points to Central's total.
Southwest's balanced attack won out in the end. Central came within nine points halfway through the final quarter, but would get no closer. In a play that exemplified the entire game, Green stole the ball and sank two free throws to seal the game in the final minute of play.
"We just wanted to play hard the whole game and have some fun," Green said.
They had their fun and it got them to the championship game.
Copyright 2018 The Lawrence Journal-World. All rights reserved. This material may not be published, broadcast, rewritten or redistributed. We strive to uphold our values for every story published.