The Parks and Recreation Futsal league Rec Girls division Shooters and Cubs got in some good soccer on Saturday at the East Lawrence Center. The Shooters used some of their skilled players to gain the edge over the Cubs and take home the 3-1 victory.
On the season the Shooters have gone undefeated in three games while the game on Saturday marked the second loss for the Cubs.
Though they didn't grab the victory the Cubs started strong in the first half by kicking in for a straight shot at the goal. The team used a strong defense to push the Shooters to the outside.
Cubs players said after the game that they thought they played well but needed to perfect some of their skills in game play.
"I think we played really well, but we need to work on our passing," Cubs forward Logan Brown said.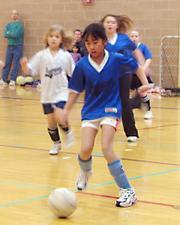 The Shooters kept the Cubs to one goal though as players Jayna Lauridsen and Courtney Elston worked hard in their attempts to bank in some goals. The team really gained their edge though with powerhouse forward Heidi Dumesich. Dumesich heaved in a goal to give the Shooters their winning edge.
Dumesich said she thought the Shooters did so well because they have learned to work effectively as a team.
"The game went well because our team had a lot of good passes and good teamwork and we also had fun," Dumesich said.
The Cubs also possessed a strong player in the young Kayla Duncan, who shot some very powerful kicks in attempts to get the Cubs into the goal. Lauridsen and Emily Robertson took turns dominating in the goalie position for the Shooters. Lauridsen squelched more than a few Cubs goals that got in her way. After keeping the Cubs from scoring the Shooters finished out the second half of the game undefeated with the victory: three goals to one.
Copyright 2018 The Lawrence Journal-World. All rights reserved. This material may not be published, broadcast, rewritten or redistributed. We strive to uphold our values for every story published.