With just seven victories to his credit as Free State High's rookie boys basketball coach, Chuck Law gladly will pad that total any way possible.
If it means beating a program in even more dire straits than his, so be it.
With a city showdown looming, the Firebirds fought through a contest lacking any serious buzz to pull out a 53-44 victory Tuesday at home over Olathe Northwest.
Free State (7-12 overall, 3-7 Sunflower League) barely shot better than 40 percent from the floor, forced a number of ill-advised shots while trying to kill the clock and missed five free throws in the final two minutes.
Yet, the Firebirds still were better off than Olathe Northwest (4-15, 0-10), which canned 52 percent of its shots through three quarters but had 18 turnovers.
"At this stage of the year, you take wins however you can get them," Law said. "There aren't a lot of secrets. ... It comes down to executing and making plays, and we made enough of them tonight."
Mired in a midseason slump, junior Kyle Schreiner came off the bench to score a game-high 19, including 11 in the fourth quarter as Free State gradually extended a slim two-point lead into a double-digit advantage.
Photo Gallery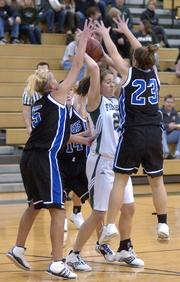 Free State High vs. Olathe Northwest
"He (Law) has been talking to me about not trying to force things," Schreiner said. "He talked to me about shooting when you get open. I just tried to come out and hit the open shots."
Most of those looks came in Schreiner's bread-and-butter 15-foot range.
Senior Scott Heitshusen added 10 points for the Firebirds, including a pair of three-pointers.
The victory aids Free State's quest to slip into a No. 5 seed at next week's Class 6A sub-state tournament and means a positive vibe heading into Friday's rematch with Lawrence High on the Firebirds' home floor.
Free State won the earlier meeting Dec. 22.
"Every coach says try not to look past a game, but I think Tuesday night, not having a lot of people in the gym ... " said Schreiner, momentarily assessing the environment he'd just witnessed before shifting gears. "Now that we've got the win, I think everyone's looking forward to Friday night."
Free State girls 46, Olathe Northwest 34
The Firebirds struggled to put away a team that hasn't won a Sunflower League game in its three-year history as a varsity program.
Nursing a three-point lead entering the fourth quarter and struggling to find consistent offense, Free State (12-7, 7-3) finally clicked for a 9-0 run to push its winning streak to five.
Firebirds coach Bryan Duncan pointed to his team's ability to win a grind-it-out affair late in the season.
"We didn't yell and scream. I didn't raise my voice," Duncan said. "We went with the approach of matter-of-fact, this is what we need to do to be successful."
Junior point guard Lauren Kimball manufactured a double-double of 11 points and 11 rebounds to lead Free State.
Unlike the boys squad, the Firebirds will be seeking revenge against LHS after losing the earlier matchup.
"We have to come out and be hard all the time and be strong for four quarters," Kimball said.
Copyright 2018 The Lawrence Journal-World. All rights reserved. This material may not be published, broadcast, rewritten or redistributed. We strive to uphold our values for every story published.