After defeating the St. Thomas Aquinas Saints, 62-42, in the Warhawk Invitational on Thursday, Southwest ninth-grader Bobby Davis couldn't wipe the smile off his face.
"It was great to get another win for coach," Davis said. "It was really fun to be playing out their on that court tonight."
The goal for the team has been to win the Warhawk Invitational and bring the crown back to their coach Mike Lewis, who last hoisted the trophy in 2002. A 10-0 run by Davis at the start of the third made sure that would happen.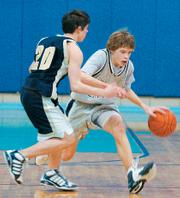 "They were boxing out Dorian Green and he was drawing the double team," Davis said. "I found the gap and it gave me some room to sink my threes."
Lewis described Davis' play in the championship game as smart. Davis tallied 10 points, two rebounds and two steals in the game.
"He scrambled for the ball and made good reads," Lewis said. "He brings the intangibles to the court and was here today to win the ball game."
Davis, who has played basketball since kindergarten, said he understands his role is to get the ball to someone to score.
Lewis said there isn't a person on the team who works harder in practice or a game than Davis, and said the guard is a big reason why his squad is 17-3 on the season.
"Bobby is a true coach's son and understands what it means to be a student athlete," Lewis said.
Davis' days of wearing navy and silver for the Bulldogs are over, but he looks forward to his future playing basketball at the next level.
"Games like tonight where the crowd is loud and I am out there on the court playing with my teammates is what playing basketball is all about," he said.
Copyright 2018 The Lawrence Journal-World. All rights reserved. This material may not be published, broadcast, rewritten or redistributed. We strive to uphold our values for every story published.