Turin, Italy — Sasha Cohen saved the best for last. And boy was it good.
With U.S. flags waving and chants of "USA! USA!" rocking the arena, the U.S. champion dazzled the judges with a sassy, sensational short program Tuesday night at the Olympics and slipped past world champion Irina Slutskaya of Russia by a slim .03 points.
Cohen's spectacular spirals and crisp footwork had the crowd clapping to the beat of "Dark Eyes," a Russian folk tune. She even flashed some attitude as she concluded a solid evening of skating that will wrap up with Thursday night's free skate.
She got the marks she felt she deserved - and the United States has yet another women's gold in sight.
"I think about it every day, of course. A couple of times a day," Cohen said. "Like, 'Oh, that would be so nice to take one of those home.'"
Americans have won three of the last four Olympic titles, and if Cohen, a two-time world silver medalist, is this dynamic in the finale, she could add another title. That would break Russia's stranglehold on figure skating golds at these games. No country has swept all four events, and the Russians already own three - pairs, men's and dance.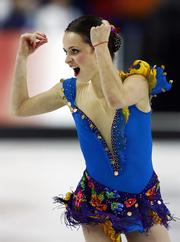 Japan's Shizuka Arakawa and Fumie Suguri were third and fourth, and American Kimmie Meissner was fifth.
Emily Hughes, added to the U.S. team nine days ago when Michelle Kwan withdrew with a groin injury, wasn't intimidated in her first major international event. The 17-year-old sister of 2002 gold medalist Sarah Hughes - who was in the audience - was in seventh place.
Bobsled
Women
Two-Man
Cesana, Italy - Blasting down the Alps in a shiny, dark American convertible, Shauna Rohbock won a silver medal in women's bobsled, ending an 0-for-Olympics stay for the U.S. sliding teams.
With roommate Valerie Fleming providing the push and applying the brakes, Rohbock completed her four runs just .71 seconds behind Germany's Sandra Kiriasis and Anja Schneiderheinze and ahead of Italy's Gerde Weissensteiner and Jennifer Isacco.
Hockey
Men
Russia 5, United States 4
Turin, Italy - After managing only two goals in two consecutive losses, the U.S. men's hockey team broke out with three power-play tallies, yet still fell to Russia in an Olympic game that mattered only in the confidence department.
The Americans (1-3-1), the fourth-place team in Group B, already were locked into a quarterfinal matchup today with Group A-winning Finland (5-0). As the No. 2 team in Group B, the Russians (4-1) will face Canada (3-2) in the quarterfinals.
Biathlon
Men's relay
Cesana, Italy - Germany won the men's 4x7.5km biathlon relay when star Norwegian Ole Einar Bjoerndalen got very little help from his friends.
Bjoerndalen gave the Norwegians a fifth-place finish by skiing a brilliant final leg for the pre-race favorites, but could not make up for his teammates' poor performances.
The Americans took ninth, led by Jay Hakkinen.
Nordic combined
Sprint
Pragelato, Italy - Felix Gottwald used a powerful sprint to rally to victory in the Nordic combined sprint Tuesday, giving Austria its record eighth gold medal of the Turin Games - a bright spot for a country caught in the middle of a doping scandal.
Freestyle skiing
Women's aerials
Sauze d'Oulx, Italy - Emily Cook's inspiring comeback story ended a day earlier than she'd hoped after another disappointing outing for the American freestyle team on the Olympic aerials course.
Copyright 2018 The Associated Press. All rights reserved. This material may not be published, broadcast, rewritten or redistributed. We strive to uphold our values for every story published.