Washington — President Bush on Tuesday strongly defended an Arab company's attempt to take over the operation of seaports in Baltimore and five other cities, threatening a veto if Congress tries to kill a deal his administration has blessed.
Facing a sharp, bipartisan backlash, Bush took the unusual step of summoning reporters on Air Force One to condemn efforts to block a firm from the United Arab Emirates from purchasing the rights to manage six U.S. ports.
The Bush administration recently approved the sale of a London-based company that currently manages the ports to state-run Dubai Ports World. The deal has raised alarms on Capitol Hill and with the Republican governors of Maryland and New York, who note that the UAE has been a home base for terrorists.
The federal government has approval rights over business transactions with national security implications. In this case, Dubai Ports World would oversee shipping arrivals, departures and unloading at the docks, but the federal government would continue to handle port security.
Many Republicans and Democrats who represent the seaport regions remain deeply skeptical of a UAE-owned company playing such a central role at some of the most sensitive entry points in the country. They noted that some of the hijackers involved in the Sept. 11, 2001, terrorist attacks used the UAE as an operational and financial hub.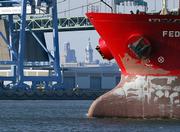 Senate Majority Leader Bill Frist, R-Tenn., and House Speaker Dennis Hastert, R-Ill., called on Bush to delay the takeover and re-evaluate the security risk. Frist threatened to introduce legislation to delay the takeover if Bush does not act quickly.
Rep. Mark Foley, R-Fla., called Bush politically tone deaf. "Of all the bills to veto, if he lays down this gauntlet, he'll probably have 350 members of the House ready to accept that challenge," Foley said.
Bush welcomed the fight. "They ought to look at the facts and understand the consequences of what they're going to do," Bush said. "But if they pass a law, I'll deal with it, with a veto."
Copyright 2018 The Lawrence Journal-World. All rights reserved. This material may not be published, broadcast, rewritten or redistributed. We strive to uphold our values for every story published.