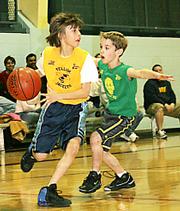 A fourth- and fifth-grade defensive battle ended in the Yellow Jackets favor Feb. 14 at Holcom Park Center. They secured their first victory of the season 22-15 after holding the Ducks to just six points in the first half.
Cameron Pope led the Yellow Jackets on the offensive end, coming up with key buckets when the Ducks mustered a small run late in the game
"We just had to keep scoring points and hold our lead with good defense," Pope said.
After failing to make a bucket in the third quarter, the Ducks made a late-game run. It started on the defensive end with a steal by guard Nick Hay, who passed ahead to forward Dayton Valentine. After getting his own rebound off a miss, Valentine put the ball back in to end the Ducks' scoring drought.
Pope scored at the other end to keep the Yellow Jackets with a comfortable lead.
Valentine converted a three-point play to get the Ducks within five points with just over a minute to play. Unfortunately for the Ducks it was the closest they would get. Pope sank a shot in the lane with less than 20 seconds left to seal the deal and give the Yellow Jackets their first victory of the season.
"This game means a lot because we weren't sure we could do it," Pope said. "It was our first win, and hopefully we can do the same thing next week."
The Yellow Jackets picked the right time to win, keeping their season alive in the consolation bracket of the Hoopster Basketball League postseason tournament. The Ducks fell out of the losers brakcet of the tournament after a successful regular season, but had one more game on the season, which they played Monday night.
Copyright 2018 The Lawrence Journal-World. All rights reserved. This material may not be published, broadcast, rewritten or redistributed. We strive to uphold our values for every story published.