Dean Sage stopped his truck in front of a grove of trees after a bumpy ride on a dirt road a mile west of Perry, looking for history.
The trees hid Medina Cemetery, a small rural graveyard, where records show no one has been buried since 1905. Some of Sage's records show that 23 people found their resting place there, but decades of neglect have left only five headstones visible.
"A lot of them are infants because they had supposedly a smallpox epidemic," Sage said as brush and leaves crunched beneath his boots.
The story is common: Many smaller cemeteries in the area have not been used for 100 years or more. For some around Douglas County, Lawrence grew and engulfed them. They were not protected.
Now volunteer groups, associations or townships are left to try to restore them.
"Memorial Day ain't what it's supposed to be," Sage said. "We've got a holiday where we're supposed to remember our dead. That's my opinion."
Medina Cemetery was platted in 1869, and for years Jefferson County has mailed tax bills to the Medina Cemetery Assn., which is now defunct, Sage said.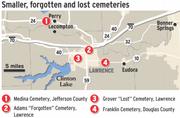 Sage is a retired railroad worker, a Vietnam veteran and now a Perry City Council member. Three weeks ago, he organized a meeting with about a dozen others from the area to work on Medina Cemetery.
They have already burned off some of the brush and trees. Sage said they hoped to eventually get rid of all trees and brush except for the largest one near the center.
Lost, forgotten
Other cemeteries are entirely lost to history.
The former Grove Cemetery is in that category. Records at Watkins Community Museum show it was in the 2300 block of Lawrence Avenue, near Fire Station No. 4, but no tombstones remain.
The family burial place was on land belonging to Joel Grover, who died in 1879. While historians say the property's barn was used to hide fugitive slaves, no written or physical evidence marked the family's burial place, and the cemetery was not legally protected, according to records.
One cemetery in northern Lawrence is visible today, but labeled "forgotten."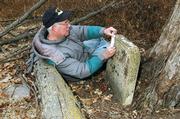 Adams "Forgotten" Cemetery is now about 15 headstones in a wooded area just beyond Ray Buckingham's backyard at 814 N. Mich.
The cemetery is invisible to almost anyone other than the property owners and not accessible from the street. The Lawrence school district owns the land.
"I'd like to see it kind of cleaned up and rescued, but there are so few stones, and they're so scattered. I think it would be hard to do that," Buckingham said.
According to cemetery records, historians believe Robert L. Hughes, a member of the First Regiment of the Kansas Volunteers, was buried there.
That caught the interest of the Samuel J. Churchill Camp No. 4 of the Sons of Union Veterans, a Civil War preservation group. Bob Wandel and other members have worked to research and preserve grave sites or make markers for known Civil War veterans in different area cemeteries.
They have recently begun to research Adams Cemetery, and the group may try to work with Boy Scouts or another group. Preserving the history of the Kansas tie to the Civil War is their mission, Wandel said.
With the cemetery near his backyard, Buckingham has thought its original designers would be surprised today to see that Lawrence has grown into that area that was once in the country.
The Civil War and free state-slave state conflict that is part of Kansas and Lawrence history has always had his interest.
"It's interesting to have people buried right behind you that lived it," he said.
He said he plans to start a historical novel from that era. One character will be a child, who has a headstone at the Adams "Forgotten" Cemetery.
Copyright 2018 The Lawrence Journal-World. All rights reserved. This material may not be published, broadcast, rewritten or redistributed. We strive to uphold our values for every story published.