New Orleans — Call it sinful excess, a catalyst for revival or just an excuse to laugh and be silly. But Mardi Gras is one piece of New Orleans even Hurricane Katrina couldn't wash away.
The bead-flinging, liquor-guzzling extravaganza got under way Friday night, nearly half a year after Katrina left New Orleans in tatters. Money woes and a strapped police force prompted the city to schedule fewer parades on fewer days, but parade enthusiasts are clinging to the tradition like a life raft.
"If we let Katrina kill our culture, there's hardly any point in building back the rest of it," said Keith Twitchell, a member of the Krewe du Vieux parade club.
Some krewes, the name given to the private clubs that stage Mardi Gras parades and masked balls, overcame incredible odds to participate this year. Ten members of the famed Zulu Social Aid and Pleasure Club died in the storm, countless parade enthusiasts had their homes destroyed and many krewes sustained thousands of dollars in damages to their floats, costumes and trinket supplies.
But wild horses couldn't have dragged Rickey Paulin, son of legendary jazzman Ernest "Doc" Paulin, away from Mardi Gras. Living in Houston since hurricane winds flattened his home, Paulin traveled back to march in a brass band along the storied streets of his hometown in several parades.
"This is our outlet," he said. "This is our tradition. This is what we do."
Not everyone celebrates
Still, with thousands of homes lying in ruin and decomposed bodies turning up now and then, not everybody feels like celebrating. Critics call this year's Mardi Gras ill-timed and wasteful. They argue that the city could find plenty of other ways to spend the $2.7 million New Orleans needs to pay for the event, which heralds a final burst of debauchery before the start of Lent, a weekslong Catholic ritual of sacrifice and prayer.
"The city is progressing for Carnival. How is that going to help me?" asked retired teacher Sam Dupre, who lost everything but the chandeliers inside his home in the blown-out Lower Ninth Ward. "Look, we suffering here. We don't even have water."
Others question whether the city is even prepared to host Mardi Gras. There's fewer of everything needed to stage a raucous party: taxicabs, hotel rooms, police, you name it. The New Orleans region also lost its only Level 1 trauma center, where critical emergencies are handled, and the hospitals that survived now overflow with sick patients.
To increase emergency response capacity for Mardi Gras, Dr. James Aiken, medical director for emergency preparedness at the Medical Center of Louisiana at New Orleans, is helping to coordinate federal plans to establish mobile hospitals and military "life-flight" helicopter service.
"We are getting as ready as we possibly can under the circumstances," said Aiken, who currently oversees a tent-city emergency room in the city's convention center. "I don't lose sleep over it, but I'm as concerned this year as I ever have been."
'Still be Mardi Gras'
Despite the lingering questions, there was never much doubt that "the greatest free show on earth" would go on in some form - with or without official blessing. In a city known for its hard-partying ways, Mardi Gras represents the essential element of the Creole entertainment culture.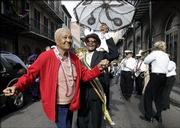 "Even if it was just pickup trucks and beads, there would still be Mardi Gras. There would still be a celebration," said Stacey Lewis, a member of the Krewe du Vieux, whose irreverent march through the French Quarter last weekend signaled the unofficial start of the parades. "They'd march in pouring-down rain."
Mardi Gras officially began Friday in the suburbs and moves into New Orleans today. The parades end on Fat Tuesday, Feb. 28.
Katrina-themed floats and somber ceremonies highlight the storm's omnipresent impact here. Krewe du Vieux, known for biting satire, skewered political leaders and incorporated a variety of storm debris and government-issued blue tarps in their floats, advertising signs such as "Fridge Over Troubled Waters." Marchers passed out bogus FEMA checks along with their beads.
Mardi Gras history
Mardi Gras, which literally means "Fat Tuesday" in French, always falls on the day before Ash Wednesday. It signals the beginning of Lent and the end of the pre-Lenten celebration known as Carnival, Latin for "farewell to flesh."
Imported to New Orleans by its French settlers, Mardi Gras has been celebrated here since the 1700s. But the modern version, with mythically named krewes, can be traced to 1856. That makes this year its 150th anniversary, according to Mardi Gras historian Arthur Hardy.
The city has canceled the parades 13 times in the festival's history, usually during times of war, Hardy's research shows. City officials flirted with the idea this year, but decided they needed the boost it gives to the tourism industry, the economic backbone of New Orleans. The festival traditionally draws a million spectators, and the economic impact on the city has been estimated to exceed $1 billion in past years.
"People see Mardi Gras as a party, and it is. This is a great party," said Melvin Rodrigue, who runs the century-old Galatoire's Restaurant on Bourbon Street. "But this is also an economic engine. We just can't afford not to have this party."
Corporate sponsors allowed
To help pay the bills this year, the city for the first time allowed limited corporate sponsorship of Mardi Gras, leading to scattered criticisms. But as of Friday, only one top-tier sponsor, trash bag maker Glad Products Co., has signed on to help finance an advertising campaign designed to draw tourists, officials said.
Event planners predict a smaller crowd this year, but nobody can say for sure what will happen. For tourists, finding a bed to sleep in and a spot to park the car could be a significant challenge. Only 22,000 of the 38,000 hotel rooms available before Katrina are habitable now, and of those, 10,000 are occupied by storm victims and recovery workers, said Denise Estopinal, spokeswoman for The Greater New Orleans Hotel and Lodging Assn.
But Tommy Marshall, founder and president of the Carnival Supplies store, predicted turnout would beat expectations. He said his trinket sales are only down about 20 percent. He had expected a 60 percent drop. Marshall said locals are participating in greater numbers this year, making up for a drop-off from out-of-state bead buyers.
"It's sort of like a patriotic thing," said Marshall "People are saying 'I'm going to do this to help the city come back."'
If you go:
¢Parades run through Feb. 28. See www.nola.com/mardigras for a full list.
¢Be patient. Parking can be scarce and expensive. Construction is common at hotels.
¢The New Orleans Tourism Marketing Corp. is an excellent source of information on hotels, tours, etc. See www.neworleansonline.com.
¢Two companies offer tours of Katrina's destruction: Gray Line, (504) 569-1401, www.graylineneworleans.com; and Tours by Isabelle, (888) 223-2093, www.toursbyisabelle.com.
Copyright 2018 The Lawrence Journal-World. All rights reserved. This material may not be published, broadcast, rewritten or redistributed. We strive to uphold our values for every story published.