Again and again, 5-month-old Risha Lafferty turned up with bruises on her body. Her father, Jay D. Decker, 26, who watched Risha during the day, told his girlfriend they were caused by accidents.
One day, she fell off the couch. Another day, he tripped while carrying her and dented the wall.
He never sought medical treatment for any of her injuries until Oct. 14, 2005, when, he said, she suddenly stopped breathing after falling off the bed.
But a coroner testified Friday that the injuries he found on the baby that day were not accidental. He found Risha had a fractured skull, bruises under her scalp and signs of being shaken.
"This child died as a consequence of deliberate injuries of force to the head," coroner Erik Mitchell testified Friday in Douglas County District Court.
The testimony came during a daylong preliminary hearing for Decker, who was charged with first-degree murder in Risha's death. Prosecutors allege that Decker had abused the girl inside his apartment in Edgewood Homes, 1600 Haskell Ave., while her mother, 24-year-old Brandi Mae Hendrickson, was at work.
Mother testifies
Friday's hearing was the first time detailed information about the case had been made public.
At the end of the hearing, Judge Paula Martin found there was probable cause to try Decker for first-degree murder. She scheduled his trial for May 22.
In all, the coroner identified 35 bruises or other external injuries on Risha, though he testified that some were several days old.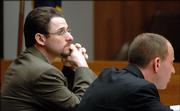 Hendrickson, who saw the girl's injuries in the days before her death but didn't report them, has been charged with felony child endangerment. She took the witness stand Friday and testified against Decker as part of a deal she arranged with prosecutors to reduce her own charge to a misdemeanor.
Hendrickson said she and Decker had moved into Edgewood on Aug. 12 after moving to Lawrence from Miami County. He worked at the nearby Sonic restaurant for a few weeks, but eventually he quit and she found work at Amarr Garage Doors through a temp agency.
That left Decker to care for Risha and the couple's 2-year-old daughter. Hendrickson testified that shortly after she began working, Risha started getting injured.
Series of injuries
¢About Sept. 16, she said Risha had a red injury under her neck. She said Decker had told her that the couple's older daughter had been trying to pull Risha through the slats of her crib.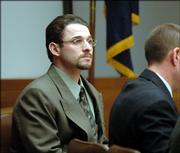 ¢ About Sept. 27, she said Risha had a bruise on her left thigh. She said Decker had told her Risha had fallen when the older daughter tipped over Risha's highchair.
¢ About Sept. 29, she said Decker had told her he'd left Risha unattended in the bathtub and had come back to see her under water and turning blue. He told her he had hit her on her cheeks to revive her.
¢ About Oct. 5, she came home and found a dent in the bedroom wall. Decker told her and later told police that he'd fallen while picking Risha up and that they both had gone into the wall.
¢ Decker also told police that he had had grabbed Risha by the throat several days before her death to stop her from falling off the couch.
"This is a child who suffered a number of injuries, all in the time that she was being cared for by the defendant," said Assistant Dist. Atty. Amy McGowan.
When asked why she didn't take Risha to a hospital, Hendrickson said she didn't know.
Hendrickson testified that the night before her daughter died, she woke up about 2 a.m., heard a "smack," heard Risha crying and then saw Decker running out of the baby's bedroom.
She testified that Decker eventually brought the baby into their bedroom and they all fell asleep. When she woke up to go to work the next morning, Hendrickson said, she noticed Risha seemed sick and tired.
Later that morning, police came to find her at work and told her that her daughter was dead.
Defendant's version
Decker told police that after Hendrickson had left for work Oct. 14, Risha woke up crying next to him. The couple slept on a mattress on the floor, and Risha had been sleeping on a body pillow next to it.
He rolled over and picked her up, he said, but as he rolled back over he dropped her. She kept falling off the mattress and struck her head on the ground, he said. Police estimated the distance she would have fallen at 8 to 16 inches.
Decker told detectives that she began screaming and he had given her a bath to try to calm her down. Shortly after he got her out of the bathtub, he said, she had stopped breathing.
He tried CPR and then called 911, he said.
Defense attorney Mark Manna attacked Hendrickson's credibility, questioning her about her plea agreement and about details of the hours leading up to the death. For example, after she testified that she had gone to bed about 10 p.m. the night before, Manna pointed out that police reports indicated she had said she'd gone to bed at 11 p.m.
Copyright 2018 The Lawrence Journal-World. All rights reserved. This material may not be published, broadcast, rewritten or redistributed. We strive to uphold our values for every story published.