STILLWATER, OKLA. — Oklahoma State basketball coach Eddie Sutton acknowledged Wednesday that he drank alcohol before an automobile accident that put him in the hospital and cast doubt over his coaching future.
During a late-night news conference at Gallagher-Iba Arena - where the Cowboys play their home games on Eddie Sutton Court - Sutton addressed reporters by phone. He said during his medical leave of absence, which was announced Monday, he would be seeking treatment for alcoholism.
It will be the second time Sutton has done that. He did so earlier in 1987, when he went to the Betty Ford Clinic while he was the coach at Kentucky. Sutton did not say where he would seek treatment this time.
Oklahoma State President David Schmidly said Sutton's future would be addressed after Sutton returns from his medical leave. Sutton's son, Sean Sutton, will continue to coach the Cowboys in the interim.
Sean Sutton did not attend the press conference, but issued a statement saying he had "great admiration for my father" and that "our family stands behind him and will support him through these tough days."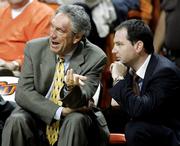 Schmidly said the university would support Eddie Sutton as the coach again seeks treatment for alcoholism.
"We want him to get well, get back on his feet, and we will look forward to the time when he will return and continue his contribution to our university," Schmidly said.
Schmidly said Wednesday's announcement didn't necessarily mean Sutton would be retiring, but the president said he wouldn't be surprised if that happened as a result of the recent events.
"If anybody has seen this man, (they) know what kind of pain he's in," Schmidly said. "He's 69 years old. We've got to get coach to focus on his health. That's the most important thing."
Sutton has suffered from chronic hip and back pain in recent years. In September 2004, he cracked his tailbone in five places when he jumped into a ditch to avoid being hit by a vehicle.
The chronic back pain drove him to alcohol, he said.
"The pain at times literally has been unbearable," he said. "Last Friday, the pain was so bad that I took a lot of pain pills, but that didn't seem to work, so I succumbed to temptation and went and bought a bottle.
"I have a problem with alcohol. That said, I make no excuses for what has happened. I recognize it, and I will be seeking treatment for it. I know I have let many people down."
Sutton was cited for driving under the influence, speeding and crossing the center line following a Friday night crash on his way to the Stillwater airport, where the team gathered before flying to a game at Texas A&M.;
Witnesses told police they saw Sutton fall at Gallagher-Iba Arena before getting into his white Dodge Durango. Crash witnesses reported seeing Sutton swerving before he collided with another driver's sport utility vehicle.
Sutton was hospitalized overnight and has been resting at home since Saturday afternoon.
Police are awaiting results of a blood test to determine whether Sutton was driving under the influence. Those test results could be available by this Friday.
Sutton apologized to the other driver in the accident, Teresa Barnard of Perry, as well to his current and former players and the university.
Randy Rutherford, a star on the 1995 Oklahoma State team that reached the Final Four, said Sutton's actions Wednesday only increased his respect for his former coach.
"He has taught us a lot about basketball, but more importantly, he has taught us a lot about life," Rutherford said. "Tonight his once again teaching us about life - about accepting responsibility for our actions.
"We all make mistakes in life. But we shouldn't be judged by the mistakes. Judge a man by what he does to correct that mistake."
Sutton coached at Creighton, Arkansas and Kentucky before becoming the coach at his alma mater prior to the 1990-91 season. He is fifth on the NCAA Division I career coaching wins list with 794. He trails only Dean Smith (879), Adolph Rupp (876), Bob Knight (867) and Jim Phelan (830).
Oklahoma State officials have said any wins this season will count toward Sutton's total.
"I will now move forward to address my health concerns," Sutton said. "But let there be no doubt that I will be pulling with all my might for the Cowboys and I hope each of you will be pulling for me."
Copyright 2018 The Associated Press. All rights reserved. This material may not be published, broadcast, rewritten or redistributed. We strive to uphold our values for every story published.