MCPHERSON — A delegation of state officials led by Gov. Kathleen Sebelius will be here today to help unveil a pharmaceutical company's plan to add 172 well-paying jobs to its work force.
"This is a pretty big deal for us," said Marvin Peters, executive director at the McPherson Industrial Development Co.
The plan also is considered a big enough deal by state officials to attract the governor to the event, which will mark one of the first major investments by the state's Bioscience Authority. That agency was created to help spur job growth in a business sector considered key to stimulating the Kansas economy.
The new jobs at Hospira are expected to involve chemistry, manufacturing, research and development.
Officials have declined to say how much the new positions will pay. But in McPherson, jobs at the Hospira plant are considered among the best in town.
"They're a very good company," Peters said.
Student internships
The company's expansion is fueled, in part, by the Kansas Bioscience Authority putting up $200,000 for a three-year program aimed at steering young scientists trained at Kansas University and other Kansas colleges toward Hospira.
Photo Gallery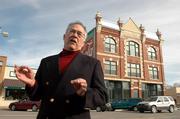 Economic development in McPherson
Plans call for spending:
¢ $45,000 on five $3,000 internships a year for students majoring in one of the biosciences at a Kansas college or university. Interns will be chosen by Hospira.
¢ $155,000 on financial aid packages for current or prospective workers who have graduated from a Kansas college or university within the past five years.
The aid - $50,000 in 2006, $55,000 in 2007 and $50,000 in 2008 - is expected to benefit at least 15 workers. Hospira will decide how the aid is distributed.
Both programs should work, Peters said.
"We have a joke about recruiting people to McPherson," Peters said. "The two hardest things are getting them here in the first place and then, after they've been here a while, getting them to accept a transfer to somewhere else.
"Once they get here, they like it."
Other plants closing
Earlier this month, Hospira announced it was closing its plants in Ashland, Ohio, and Montreal, Canada. It's also started a four-year "phase out" of its manufacturing facility in North Chicago.
The closings are expected to cut more than 1,500 workers from the company's work force.
It's unclear how many - if any - of the displaced workers will land jobs at the 440,000-square-foot facility in McPherson.
The company also has plants in Rocky Mount, N.C, and Austin, Texas.
Hospira officials declined to be interviewed before today's ceremony with Sebelius.
Once a division of Abbott Laboratories, Hospira manufactures a wide range of pharmaceutical and medication delivery products.
In McPherson, Hospira's manufacturing operations are focused mostly on so-called injection drugs - those administered by shots or IV setups. It's also involved in freeze-drying certain medications.
Before Abbott Laboratories, the McPherson facility was part of Sterling Drug. It opened in 1974.
Residents pleased
McPherson residents welcomed news of the new jobs.
"Any time you add jobs - especially good-paying jobs like these - it's a good thing for the community," said DeWayne Herrs, who's been a barber in McPherson for 45 years.
"It means more people will be drawing salaries, buying groceries - and getting haircuts," he said.
How many Kansas University graduates will take the Bioscience Authority's bait and move to McPherson, population 14,000, remains to be seen.
"Let's be honest," said John Holecek, director of development for a local company that's restoring the city's 118-year-old opera house. "If you're 23 and you're used to living in Lawrence, you'll encounter some culture shock, but, come on, Lawrence is Kansas' cultural epicenter. I don't know that it's fair to compare too many cities to Lawrence."
What McPherson lacks in cultural abundance, Holecek said, is more than offset by other qualities that come with living in a small town.
Bioscience board
The Kansas Bioscience Authority is an independent, 11-member board charged with making the state a center for bioscience research, innovation and commercialization. Members are appointed by the governor, House and Senate leadership, Kansas Board of Regents and Kansas Technology Enterprise Corp. Over the next 10 to 15 years, the authority is expected to allocate more than $580 million from taxes paid by bioscience companies. Current board members are: ¢ Sen. Jim Barone, D-Frontenac. ¢ Clay Blair, former chairman of the Kansas Board of Regents. ¢ David Franz, director of the National Agricultural Biosecurity Center at Kansas State University. ¢ Dolph C. Simons Jr., Journal-World editor and chairman of the World Company. ¢ Dan Glickman, president of the Motion Picture Association of America. ¢ Victoria Franchetti Haynes, president and chief executive officer at RTI, an international research company. ¢ Sandra Lawrence, senior vice president and treasurer at Midwest Research Institute, Kansas City, Mo. ¢ Stephen O'Connor, founder and CEO at Nanostream, Pasadena, Calif. ¢ Bill Sanford, chairman and CEO at NanoScale Materials, based at Kansas State University. Kansas University Chancellor Robert Hemenway and Kansas State University President John Wefald are nonvoting members of the board.
"If you're 23 and ready to settle down, raise a family, McPherson is an ideal place for that," he said.
"If you keep your eyes and ears open, there's plenty to do around here," Holecek said. "The college here (McPherson College) just had (guitarist) Bret Boyer in concert - I've lived in Boston, in L.A., in Munich, and it was every bit as good as what I heard there."
Low electrical rates
Founded shortly after the Civil War, McPherson has, by luck and intent, managed to avoid most of the economic pitfalls that have plagued much of the state's rural sector.
"McPherson is known for never really going through a depression," Peter said. "Back during the Great Depression, oil was discovered in McPherson County, which let us ride through that.
"And then in the late 1950s when agriculture was down and oil was trickling out, a group got together and said 'OK, we've got to bring in industry.'"
By the mid-1970s, McPherson had become a hub for plastics manufacturing.
It's also home to NCRA, an oil refinery that posted $2 billion in sales last year, and a 750,000 Johns Manville plant that makes fiberglass insulation.
"We're industry friendly," Peters said.
It helps that McPherson's electrical rates are the lowest in the state and among the lowest in the nation.
For almost 40 years, McPherson's power plant has produced electricity for Westar and its predecessors during periods of peak demand. In exchange, Westar sells electricity to McPherson at a cut rate.
The city's Board of Public Utilities passes the savings on to its customers.
In Lawrence, for example, the average kilowatt hour cost - a mix of residential, commercial and industrial rates - is 5.4 cents. In McPherson, it's 3.5 cents.
Today, the city's five industrial parks employ more than 3,000 workers.
The industries also benefit from a strong work ethic that's often linked to the city's Mennonite past.
"It's not that everybody in McPherson is Mennonite - they're not," Peters said. "But there is an expectation here that you'll put in a day's pay for a day's work. It sort of sets the tone.
"I know that sounds like chamber-of-commerce talk, but it's true."
Copyright 2018 The Lawrence Journal-World. All rights reserved. This material may not be published, broadcast, rewritten or redistributed. We strive to uphold our values for every story published.