Score by Quarter
1st 2nd 3rd 4th Final
12 8 10 0 30 Southwest
4 6 6 7 23 Central
Central
C.J. McTizic - 8 points
Matthew Ruder - 6 points, 2 rebounds
Jake Weber - 2 points
Sebastian Bonner - 1 steal
Coulter Vestal - 4 points, 5 rebounds
Aundre Allen - 1 rebound
Joel Bonner - 3 points
Southwest
Daniel Chance - 4 points, 1 steal
Michael Lisher - 4 points, 1 rebound, 2 blocks
Jed Borovik - 5 points, 2 rebounds
Jack Bush - 1 rebound, 1 assist
Nick Hassig - 12 points, 1 rebound, 2 steals
Kirk Resseguie - 1 steal
Steven Melton - 5 points, 1 rebound
Brad Jamierson - 2 rebounds
Game Summary
1st Quarter
Southwest jumped to an early 6-0 lead just two minutes into the game. Led by Daniel Chance, with four points and one steal, the Bulldogs jumped on top early and led 12-4 at the end of the period.
2nd Quarter
Jed Borovik and Nick Hassig led the Bulldogs scoring drive in the second quarter of action. Hassig finished with a game-high 12 points. Central's Matthew Ruder kept the Mustangs in the hunt with strong play in the paint and a couple buckets of his own.
Photo Gallery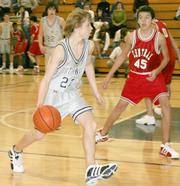 Central @ Southwest
Eighth- and ninth-grade game photos.
3rd Quarter
Southwest outscored Central for the third straight period and extended their lead to 14 points an offensive outburst from Nick Hassig. Coulter Vestal came alive for Central grabbing multiple rebounds and getting the Mustangs second-chance opportunities at the basket.
4th Quarter
Central mounted a comeback on the heels of great pressure defense, but fell short. Despite holding Southwest scoreless in the final period of play, Central needed eight more points to take the lead and get the win. Vestal and Joel Bonner scored for the Mustangs, but the Bulldogs had built a big enough cushion to hold on for the victory.
Copyright 2018 The Lawrence Journal-World. All rights reserved. This material may not be published, broadcast, rewritten or redistributed. We strive to uphold our values for every story published.