The obesity and diabetes epidemics that face American Indians didn't exist hundreds of years ago.
So Devon Mihesuah offers a simple solution to combat the problem: Return to the foods that her ancestors ate.
"There isn't a whole lot we can do about some of the manifestations of colonization - for example racism, stereotypes or treaty abrogations," Mihesuah says. "We can fight for equality, but there's only so much we can do. But what we can control is what we eat."
Mihesuah, a member of the Choctaw tribe and a Kansas University professor of indigenous nations studies, is getting international attention for her views on American Indian health.
Her current book, "Recovering Our Ancestors' Gardens: Indigenous Recipes and Guide to Diet and Fitness," recently won one of four U.S. awards from the Gourmand World Cookbook Awards. Two of the other books were written by poet Maya Angelou and homemaker icon Martha Stewart.
The national winning publications will be forwarded to the international competition, with those award recipients announced in May in Malaysia.
Root of the problem
This is Mihesuah's 12th book but the first to deal specifically with the diet and fitness aspects of American Indian life.
"I wrote this book out of concern, because what we're seeing more and more is unprecedented high blood pressure, diabetes, obesity and other health problems associated with poor diet and lack of activity among native people," she says.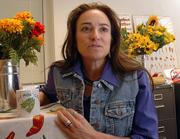 American Indians are 2.6 percent more likely to have diabetes as the general population. More than 30 percent of American Indians are obese, and one in five has high blood pressure.
"A lot of the tribes are making an effort to solve the problem, but I don't think they're taking it far enough," she says. "They have clinics where they can tell you if you have diabetes, and they can tell if you are (overweight). But they don't address the root of the problem, which is what you're eating and how much you're exercising."
Mihesuah, in her first year at KU, says the loss of the active, often nomadic lifestyle tribes shared generations ago is partially to blame. But she especially points to processed and sugary foods that have replaced the foods native people would have eaten years ago.
"Fry bread has really become almost a staple for many native people," she says. "The irony of fry bread is ... that is made from wheat that came from the Old World. And it's really a pity that natives have latched onto that and they're calling it a traditional food, when it is not. And it's also such a deadly food. It's almost like you're purposely poisoning yourself if you eat this stuff in large quantities."
Instead, Mihesuah points to foods such as squash, pumpkins, tomatoes, potatoes, corn, fruit, elk, deer and turkey as healthy staples.
Growing interest
She recently gained approval from KU administrators to start an indigenous garden on west campus to grow some of those plants. She's hoping to get students and the community involved, and the produce may be given to the poor or sold at the Lawrence Farmers Market.
"It's highly symbolic for native people," Mihesuah says. "Even if you have half a whiskey barrel growing in your backyard of peppers and squashes, it's highly symbolic. That is what your people used to do."
The time could be right for the idea to catch on, says Bill Welton, an instructor of natural resources at Haskell Indian Nations University.
"From a lot of different directions, there's some eye-opening," Welton says. "People are beginning to look at the increase in diabetes, and such a large amount of our society is obese to the point that, whether it's Weight Watchers or other diets, they're not doing long-term solutions. A simpler way of life is one of those options that has more realistic appeal than it did 10 years ago."
The problem, he says, is it might not be as economical to mass-produce foods that aren't genetically engineered or have growth hormones.
"I think the issue or question is can simpler food be produced in such a mass quantity that food now is being processed?" he says.
Mihesuah says there's nothing wrong with American Indians eating Old World foods - she herself is a big fan of sweet peas and garlic. And she says the principles introduced in her book could apply to people of any ethnic background.
"It's also getting back to your roots," she says. "What does it mean to be a member of your tribe? That means engaging in your culture. So a lot of people who are getting away from healthy ways of living are also getting away from what it means to be a member of whatever tribe they're a member of."
Meat and vegetable kabobs
1 pound meat of your choice (elk, deer, buffalo, turkey or salmon)
2 red, yellow or green bell peppers, seeded and cut into squares
2 cups large whole mushrooms
2 zucchinis, cut into chunks
2 yellow crooked-neck squash, cut into chunks.
Marinate meat in either a plastic bag or covered bowl with marinade of your choice for at least four hours. Preheat the grill by allowing coals to burn for 15 to 20 minutes. Oil the skewers with vegetable oil, then thread meat and vegetables onto skewers and "paint" on a thick layer of olive oil. Sprinkle with pepper and other spices. Place the kabobs onto the rack and turn every eight minutes until the meat is done.
Vegetable saute
2-3 yellow squash, sliced lengthwise
2-3 zucchini, sliced lengthwise
1-2 cups sliced mushrooms
3 large sliced tomatoes
1 cup broccoli florets
1 cup cauliflower
Cover a nonstick pan with vegetable spray or a few tablespoons of vegetable oil. Cover the pan with a layer of vegetables and sprinkle with pepper, garlic, oregano or other seasoning. Cook over medium heat and turn after 10 minutes. Turn to low, cover and simmer until vegetables are tender.
Green chili
6-12 roasted, peeled and deseeded green chiles
1 onion, chopped
3 cloves garlic, minced
1 pound lean pork, elk or venison, cubed
1/2 lime juice
1 1/2 cups chicken stock
Salt and black pepper to taste
1 tablespoon olive oil
Add green chilis, onion, garlic and spices to cooking pan and stir. Add meat and stir; then add lime juice. Add chicken stock until the meat is covered. Stir well and reduce to simmer. Cover for 30 minutes, add more chicken broth if the mixture has become too thick.
Zucchini canoes
2-4 large zucchinis
1/2 pound ground lean meat (such as turkey)
1 cup cooked wild rice
1 cup chopped onions
1 beaten egg
4 large tomatoes, pureed
2 tablespoons olive oil
Italian breadcrumbs (optional)
Garlic (optional)
Parsley (optional)
Parmesan cheese (optional)
Cut squash lengthwise and take out the flesh. Place emptied zucchini skins in a baking pan. Saute the ground meat, squash, spices and olive oil until meat is done. Remove from heat and add the cooked rice and beaten egg and beat well. Fill each emptied zucchini skin with the mixture, cover with foil (or glass top) and bake at 350 degrees for approximately 45 minutes, or until squash is firm and tender.
-- Recipes from "Recovering Our Ancestors' Gardens" by Devon Abbott Mihesuah
Copyright 2018 The Lawrence Journal-World. All rights reserved. This material may not be published, broadcast, rewritten or redistributed. We strive to uphold our values for every story published.