LAHORE, Pakistan — Thousands rampaged through two cities Tuesday in Pakistan's worst violence against Prophet Muhammad caricatures, burning buildings housing a hotel, banks and a KFC, vandalizing a Citibank and breaking windows at a Holiday Inn and a Pizza Hut.
At least two people were killed in Lahore, where intelligence officials suspected outlawed Islamic militant groups incited the violence to undermine the U.S.-allied government.
An Associated Press reporter in Lahore saw crowd members who appeared to be orchestrating the attacks, directing protesters - some of whom were carrying containers of kerosene - toward particular targets. The demonstrators also set the provincial government assembly building on fire.
In the capital, Islamabad, hundreds of students stormed through the main entrance of the tightly guarded enclave that houses most foreign embassies, brandishing sticks and throwing stones. They were dispersed with tear gas, and no foreigners were hurt.
The unruly protests and deaths marked an alarming spike in the unrest in Pakistan over the cartoons, which first appeared in September in a Danish newspaper and have been reprinted by other Western newspapers.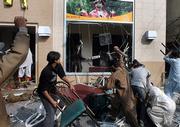 Many in this conservative Islamic country, as across the Muslim world, regard any depiction of the prophet as blasphemous. They reject the newspapers' explanations that the cartoons represent free speech.
Demonstrations across Asia and the Middle East have subsided in recent days, including in Afghanistan, where 11 people died in riots last week. But the protests have gathered momentum this week in Pakistan.
Witnesses said rioters also damaged more than 200 cars, dozens of shops - many locally owned - and a large portrait of Musharraf. American brands were targeted. Protesters vandalized a Citibank branch and broke windows at a Holiday Inn hotel, a Pizza Hut and a McDonald's restaurants.
A security guard shot and killed two protesters trying to force their way into a bank, said Interior Minister Aftab Khan Sherpao. At least 11 other people were injured in the riots.
Copyright 2018 The Associated Press. All rights reserved. This material may not be published, broadcast, rewritten or redistributed. We strive to uphold our values for every story published.