With key players for each team putting on a clinic, the game between Central and Southwest ninth-grade basketball teams had moments of pure enjoyment. There were also moments of frustration and some of boredom in Southwest's, 52-31, win Feb. 6 at Southwest Junior High.
Central guard Chuck Hunter began his clinic by grabbing a defensive rebound then nailing a three. Southwest guard Dorian Green started by schooling two Central defenders on a drive straight down the lane for two points. And that was all the excitement for the first quarter. With Southwest playing a shallow 3-2 zone and his team up 7-4, Central coach Gary Hall told his team to hold the ball and make the Bulldogs give up the zone.
After passing around the perimeter for nearly three minutes with an occasional attempt at driving through the zone, Central put up a shot, Southwest's Lance Kilburn grabbed the rebound and scored at the other end with just 10 seconds left in the quarter.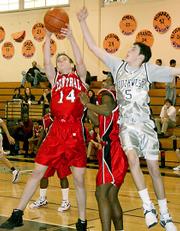 The Bulldogs made a few adjustments and came out in the second quarter looking to force the tempo a little faster.
"After they held the ball we decided to come out with a different look and start trapping them on defense," Southwest's Dorian Green said.
It certainly worked, and the Bulldogs jumped out to their first lead of the game, 9-7, just two minutes into the quarter forcing a quick Central timeout. The guards for both teams benefitted from a faster tempo as Hunter and Green kicked their games into high gear, piling up shots and getting their teammates involved. Southwest's game flourished with the quickened pace and they held a six-point lead going into the locker room.
"We really wanted this game," Green said. "Coach reminded us that it would be our last home game at Southwest and that was all the motivation we needed."
Photo Gallery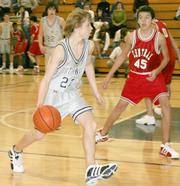 Central @ Southwest
Eighth- and ninth-grade game photos.
Green certainly took that to heart and had one of the best games of his young career, ending with 12 points, five rebounds, three steals and three assists. His favorite target for assists was forward Connor Monarez, who added 11 points of his own, including two long makes from downtown. Hunter did all he could for Central, scoring a game-high 16 points, which was more than half his team's total, and grabbing five rebounds.
Coach Hall said the game boiled down to who wanted it more.
"The bottom line is that we just weren't hungry enough," Hall said. "I try to get them to a point where it's almost personal to fire them up, but it just didn't work this time."
For the Southwest players, they ended their season in the Dog Pound on a high note, defeating Central 52-31.
"It's really just about having fun with your team," Green said, just before posing for multiple team photos on both sides of the gym.
Copyright 2018 The Lawrence Journal-World. All rights reserved. This material may not be published, broadcast, rewritten or redistributed. We strive to uphold our values for every story published.