The county's top prosecutor is voicing concerns about students at Lawrence's public high schools leaving campus at lunch, saying it can be unsafe and contributes to truancy problems.
"I think it's something that needs to be addressed before it becomes a really important issue after we have to bury some kid that's racing back to school," Dist. Atty. Charles Branson said. "I'm not going to say it's an epidemic or something like that, but it's time to take a look at the issue."
Principals at Lawrence's two public high schools say they're open to discussion, but nothing is likely to change immediately.
"It's something we'd have to revisit with our students and try to bring them into the conversation," LHS Principal Steve Nilhas said.
Free State High Principal Joe Snyder said: "It's a privilege for kids. It's not a right."
Students have been allowed to leave LHS at lunch for at least 25 years. Free State inherited the practice when the school opened in 1997.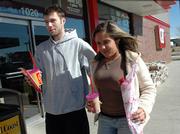 On a typical day, between 30 percent and 40 percent of students leave for lunch at the two schools. Lunch lasts 30 minutes, and Branson questions whether that's enough time for students to go somewhere, get food and return safely.
Another concern, he said, is that some students are not coming back after lunch. Students who miss one period in a day get an unexcused absence, and if they rack up enough in a row or in a semester, they can be declared truant and enter the court system.
This semester, the Lawrence school district and Branson began a set of new procedures meant to keep students in class - and to force them to pay a higher price when they skip.
Last spring LHS considered closing lunch for sophomores. Most parents were supportive, but students weighed in against the plan, Nilhas said.
He said about 700 students eat in the cafeteria each day, a number that would grow to 1,200 if students weren't allowed to leave.
For LHS junior Jennifer Reynoso, Tuesday's lunch period was a chance for her to grab lunch with her boyfriend, Matt Sowders, who picked her up at school and brought her flowers for Valentine's Day.
-->
They went to a convenience store, where she got Twizzlers, chips and a frozen cappuccino.
Reynoso estimated she left school three times per week at lunch. She admitted that at least three times this year, she hasn't gone back.
"It just depends on what kind of day you're having," she said. "Sometimes I'm having a crappy day, or I go out and have a good lunch and have second thoughts on going back to school."
If open lunch were to be discontinued, she said, the cafeteria would become too crowded. Some students would simply rebel, she said.
"Kids will probably still go over teachers' heads and walk out and come back when lunch is over," she said.
David Thiel, parent of an LHS junior, said he's not against his daughter leaving school for lunch on occasion, but admits he worries about the safety of students rushing back and forth from lunch.
"I'd prefer that they had creative options at school so that they wouldn't have to leave," he said. "If they were to prohibit leaving the campus, I would support that."
School board member Rich Minder said letting students leave for lunch could be viewed as a chance to let them make choices that help them develop socially and emotionally.
He said the board hadn't discussed the issue much in recent years. He's open to talking about it more but isn't convinced it's something that should be eliminated.
"I'm not there yet," he said.
Copyright 2018 The Lawrence Journal-World. All rights reserved. This material may not be published, broadcast, rewritten or redistributed. We strive to uphold our values for every story published.