Turin, Italy — Finally, what Canada has been waiting for: hockey.
No more talk about Wayne Gretzky's link to an alleged gambling ring - OK, at least until he pokes his head into one of the two rinks at the Turin Olympics.
Or discussion about possible distractions for the players, who make up what may be the best Canadian Olympic team ever. They say what's going on with Gretzky has nothing to do with them winning another gold.
"The players are pretty much insulated here," Gretzky said after arriving Tuesday. "Distractions don't matter to them. They're here to play the game ... and they're ready to play."
The games start today with Canada playing Italy in what could be a 10-goal game or more. The United States, silver medalists in Salt Lake City in 2002 while Canada won its first gold in 50 years, takes on Latvia in the first of its five round-robin games in pool play.
The Olympics stir a Super Bowl-like reaction in Canada, only everybody roots for the same team. TV ratings for Canada's gold-medal victory in 2002 were among the highest ever in the country. And this team, put together mostly by executive director Gretzky, is seen as the gold medal favorite.
But who could have seen this coming? A New Jersey-based gambling investigation alleges Rick Tocchet, Gretzky's top assistant coach with the Phoenix Coyotes, financed an illegal betting ring that purportedly drew $1.7 million in bets in the weeks leading to the Super Bowl.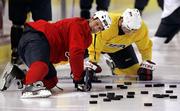 Gretzky has not been questioned, but his wife, actress Janet Jones, is alleged to have placed bets with the group. And the timing couldn't have been worse - leading one Canadian newspaper to question if the probe was intentionally timed to hurt Canada's chances and improve the United States' in the Olympics.
The NHL only wishes Americans paid such close attention to hockey.
Canada's players are acting as if Gretzky's troubles aren't their own, since he won't be taking any shifts or leading any odd-man rushes - even though, at age 45, the NHL's all-time leading scorer probably could.
"We're excited he's coming and that he'll be a part of that," team captain Joe Sakic said. "I know people are trying to bring up, 'What's going on with Wayne?' ... It's not an issue."
Miracle on ice? This one might be better called the mismatch on gelato.
The Americans were mostly late arrivals in Turin, with most players scheduled to get in late Tuesday night or this morning after many missed scheduled flights due to last weekend's East Coast snowstorm.
"It's not the ideal way you'd like to prepare for a game, but it's that switch - that competitive juice - that just turns on and you're ready to go," said John Grahame, who is expected to open in goal for the Americans.
The United States, despite relatively low expectations that caused coach Peter Laviolette to joke last week there was no reason to make the long trip, also figures to have a relatively easy game Thursday against Kazakhstan.
The best matchup of today's six games looks to be Russia against Slovakia, which has star-quality NHL forwards in Marian Hossa, Pavol Demitra, Miroslav Satan and Marek Svatos. Russia general manager Pavel Bure, who retired as a player last fall, repeatedly has denied his talented team won't be focused or in sync - a common problem for Russian teams of recent vintage.
Russia has plenty of scorers in Ilya Kovalchuk, Alexander Ovechkin and Alex Kovalev, and the Olympics mark the first major showcase for forward Evgeni Malkin, who will open on a line with Ovechkin. Malkin, the No. 2 pick in the 2004 NHL draft by Pittsburgh, played in the world junior championships for silver medalist Russia only last month.
Copyright 2018 The Associated Press. All rights reserved. This material may not be published, broadcast, rewritten or redistributed. We strive to uphold our values for every story published.