DURHAM, N.C. — J.J. Redick's legacy is far from complete, yet he knows better than anyone it always will include his uncanny ability to make three-pointers.
He made sure of that Tuesday night, when he became the NCAA's career leader.
The Duke senior moved to the top of the list with four more threes on his way to 33 points, helping the second-ranked Blue Devils run away from Wake Forest, 93-70, Tuesday night to remain undefeated in the Atlantic Coast Conference.
"I'll never be able to completely shed the label of just being a shooter, and that's fine with me," Redick said. "It doesn't stop me from working on my game and trying to get better."
Freshman Josh McRoberts had 12 of his 16 points in the first half and Shelden Williams also scored 16 for Duke (24-1, 12-0 ACC), which is in position to reclaim the No. 1 ranking in The Associated Press poll next week following Connecticut's loss to Villanova on Monday night. Of course, the Blue Devils still must beat Miami later this week.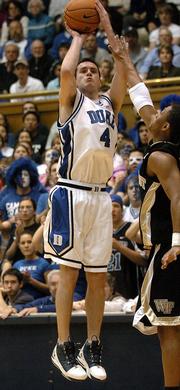 "I've tried not to focus on the records. I've tried to focus on what our team's doing," Redick said. "We're having a heck of a season as a team, and that's been a lot of fun to be a part of."
No. 3 Memphis 80, Southern Mississippi 41
Memphis, Tenn. - Rodney Carney scored 15, and Kareem Cooper had 13 points and 13 rebounds to help Memphis claim its 12th straight victory. Darius Washington and Shawne Williams each had 11 points for Memphis (23-2, 9-0 Conference USA), and Robert Dozier finished with 10 points, hitting all three of his shots from the field and all four free throws.
Seton Hall 71, No. 11 West Virginia 64
East Rutherford, N.J. - Kelly Whitney had 21 points and 12 rebounds, and Seton Hall bounced back from a 42-point loss to top-ranked Connecticut. Brian Laing added a career-high 19 points for the Pirates (16-7, 7-4 Big East).
No. 18 Iowa 66, No. 16 Michigan State 54
Iowa City, Iowa - Greg Brunner scored 15 and grabbed 10 rebounds, Jeff Horner added 15 points and six assists, and Iowa picked up its fifth straight victory over a ranked opponent.
Copyright 2018 The Associated Press. All rights reserved. This material may not be published, broadcast, rewritten or redistributed. We strive to uphold our values for every story published.