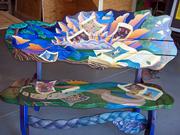 The Van Go bench shown at right was commissioned by The Toni Morrison Society to commemorate the noted author's 75th birthday.
Morrison was the first black woman to receive the Nobel Prize in Literature. Her books include "Beloved" and "Tar Baby."
Van Go LifeJAMS artists Kali Detherage and Melanie Bolden, under the direction of art director Cathy Ledeker, designed and painted this biographical bench to honor Morrison's life and work. The bench will be shipped to Princeton, N.J., and presented to Morrison at her birthday reception on Friday.
Van Go Mobile Arts Inc. is an arts-based social service agency that provides after-school and summer programs to youths ages 14-21.
Copyright 2018 The Lawrence Journal-World. All rights reserved. This material may not be published, broadcast, rewritten or redistributed. We strive to uphold our values for every story published.