Hays — Part of Interstate 70 was expected to remain closed through Friday after a piece of construction equipment that was being hauled on the flatbed of a tractor-trailer crashed into an overpass.
"This is a once-in-a-lifetime deal," said Kevin Zimmer, area engineer for the Kansas Department of Transportation in Hays. "We have bridges that get hit fairly regularly, but it's usually a small impact that removes a small amount of concrete. This is pretty substantial."
The crash happened Monday night when the boom on the track hoe excavator struck the overpass.
The collision left the boom sticking through the deck of the bridge, about a mile west of Hays' main 1-70 interchange.
"He was just too tall for the bridge," Kansas Highway Patrol spokesman Allan Lytton said.
The rig's driver wasn't injured. Nor was the driver of a sport utility vehicle struck with debris from the collision.
Lytton said he was not sure whether a citation was issued.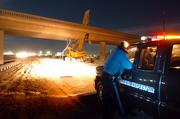 "If he's over height, we'll have to deal with that somehow," he said.
Eastbound traffic was being detoured Tuesday around a four-mile stretch of I-70. Westbound traffic was not affected.
The bridge also remained closed Tuesday while authorities examined the damage and determined what repairs need to be made.
"It could be a matter of removing the damaged part and replacing the middle section in the best case," Zimmer said. "In the worst case, the whole bridge would have to come down."
Zimmer estimated a partial replacement could cost hundreds of thousands of dollars, while a new bridge could total more than $1 million.
Copyright 2018 The Associated Press. All rights reserved. This material may not be published, broadcast, rewritten or redistributed. We strive to uphold our values for every story published.