Turin, Italy — The Curl Girls were supposed to rock.
They had the catchy nickname, their own Web site and smiles as white as a Minnesota winter. They were poised to be stars - or as close to it as anyone can be with a broom in their hand.
And, as Tiger Woods would say, they were really rolling the rock beautifully.
At least they were until Monday, when the U.S. women's curling team was blown out in its opening match to underdog Norway. Proving, of course, that even frenetic sweeping can be affected by a case of Olympic nerves.
Call it an early scare for the Curl Girls. But there were a lot scarier things going on for American athletes in the mountains outside this factory city.
Two frightening crashes. Two medal hopefuls lying in hospitals.
NBC might have liked it because nothing sells like some good wipeout videos. Three days into these Olympics, though, injured Americans are piling up, and U.S. medal projections are plummeting faster than General Motors' car sales.
If it weren't for those wacky snowboarders grabbing air and kicking rear, the United States wouldn't even be on the first page of the leaderboard in the thing most important to those who dole out Olympic money: the medal count.
Three days into these Olympics, America's biggest - and supposedly best - team is off to a start that might be described as slushy, at best. The medal count doesn't look bad at six, but four of those were won in a sport that didn't even become part of the Olympics until eight years ago.
Maybe it's time to invent some more sports like America did with snowboarding. Better hurry, because the U.S. is terrible at things like ski jumping, biathalon and cross-country skiing, and it doesn't seem to be getting much better in other winter sports.
It's too late for Turin, but how about a combination of Frisbee golf and downhill skiing? We could call it Friski, and Americans should be able to dominate for a few Olympics before the rest of the world catches up.
Don't like that? Then think speed ice fishing. The 2010 organizers can freeze some kiddie pools full of trout, build little shacks on top of them and give competitors five minutes to reel in all they can. Minnesotans should sweep the medals in this event.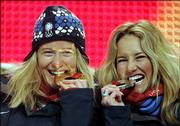 If that doesn't work, bring back barrel jumping. It's exciting and easy to understand when you've added one barrel too many. American skaters used to rule that competition when it was a staple on "Wide World of Sports" back in the '60s.
Right now, though, NBC would be happy just to have the team it spent so many hours promoting. By the second day of the Olympics, the network's biggest star was gone, its biggest mouth was muted and there were still nearly 400 hours of television time left to be filled.
Michelle Kwan bowed out tearfully with an injury, then rejected NBC's pleas to stay on as a commentator. Bode Miller finished out of the money in the downhill, and Apolo Anton Ohno nearly ended up sliding on his soul patch.
Miller and Ohno will have more chances, while the 17-year-old sister of 2002 gold medalist Sarah Hughes will fly to Italy to take Kwan's place. Some good lineage can't hurt, but there was a reason Emily Hughes wasn't brought to the games in the first place.
Outside of dressing Chad Hedrick in sequins and teaching him a quick triple-triple, though, options were limited.
Things got worse Monday when America's gold medal hope in the women's downhill, Lindsey Kildow, crashed horribly at high speed and had to be airlifted to a hospital. Later in the day, American luger Samantha Retrosi suffered a concussion and short-term memory loss when she crashed on the ice.
Hedrick may turn into the star that saves this team. He won the first gold for the United States in speedskating, will be favored in two other races and has a chance to medal in yet two more.
Get used to speedskating. The Dutch do it a lot, and they seem to enjoy it.
Don't get used to seeing the United States near the top of the medal standings, as it was when Americans won a record 34 medals on the home ice and snow of Salt Lake City. There's a reason athletes win more medals at home. It's because it's, well, home.
Turin, if you hadn't noticed, is a lot different than Salt Lake City.
Sure, the pizza's better. And Miller and Hedrick can get a beer pretty much any time of the night.
But the beds in the Olympic Village are hard and there's no room service. That alone may be enough to throw figure skater Johnny Weir off his game.
Of course, Weir dresses as a swan for his short program, so he doesn't look at things quite the same as the average athlete.
Better than an ugly duckling.
Because that's more like the American team so far in these games.
Copyright 2018 The Associated Press. All rights reserved. This material may not be published, broadcast, rewritten or redistributed. We strive to uphold our values for every story published.