New York — When he was a boy, Hiram Stewart took a bus to Virginia, put a puppy in a paper bag and cradled it all the way home to New Orleans.
For more than three decades, he's cared for dogs in the Big Easy. Usually champion dogs, the kind that will reach the Best in Show ring this week at Westminster.
Still, nothing prepared him for what he saw happening to pets around town after Hurricane Katrina hit. Like that pair of little beagles with the pleading eyes, chained inside a garage.
"Every time a car would drive by, they'd come out, hoping it was their owner," Stewart said. "I knew the situation better than those two poor dogs did. It wasn't going to be just a few days."
Stewart believes those beagles came out OK. But thousands of their companions didn't, and America's most prestigious dog show remembered them - and those who helped - with a moving tribute Monday night at Madison Square Garden.
Hours earlier, the Westminster Kennel Club show started a day after the biggest snowstorm in city history blanketed New York. A total of 2,622 dogs in 165 breeds and varieties were entered - some didn't make it because of the bad weather, though there was no exact count.
A colored bull terrier named Rufus, the top-winning pug ever, a Rottweiler led by a former Florida State linebacker and a Dalmatian called Boomer were the big winners Monday night.
The hound, herding and sporting groups were to be judged tonight, with Best in Show chosen shortly before 10 p.m.
While some paint this as the Miss America of dog shows - in fact, Miss America 1990, Debbye Turner, is hosting the USA Network telecast this year - Westminster is known for reaching out into the canine community.
There was hardly a dry eye in the building in 2002 when 20 German shepherds and retrievers came onto the Garden's green carpet to honor search and rescue dogs for their tireless work at the World Trade Center and Pentagon after the 9-11 attacks.
The Katrina tribute, featuring dogs and those that saved them, brought a standing ovation.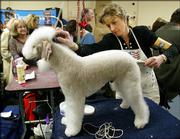 A video montage on the scoreboard showed images of injured and abandoned dogs, accompanied by a song. Moments later, a half-dozen dogs with Gulf Coast connections were introduced, including one that recovered from burns and an amputated toe.
Sandra Bethea brought her Bedlington terrier from Gulfport, Miss. With Mardi Gras beads on her grooming stand, she primped Talyn to a best of breed victory.
Bethea then passed on watching the tribute.
"I can't, it would be too emotional," she said backstage. "All in my own time."
Louisiana, Mississippi and Alabama are not prime areas for purebred champions, producing a total of only 30 entries at Westminster this year. Yet veterinarians and volunteers poured into the area after the storm blew in, joining those already in place to offer time, services and donations.
As Katrina approached in late August, Lisa Myers packed 13 dogs into her mobile trailer and left Covington, La. Her husband stayed behind with a horse and two Basenjis; one of the dogs ran away when the winds blew and was killed.
"I saw some terrible things along the drive. People just letting their pets out on the side of the road," she said. "The things people did to their animals during Katrina are inexcusable."
Lashes, a champion Chinese Shar-Pei, is now with Myers at Westminster.
"I thought about not coming this year, but this continuity, it's a rite of passage," she said. "If I didn't do this, I've given in to the adversity."
Copyright 2018 The Associated Press. All rights reserved. This material may not be published, broadcast, rewritten or redistributed. We strive to uphold our values for every story published.