Ottawa High boys basketball coach David Grover preached a simple need at the outset of the 2005-06 season.
If the Cyclones harbored any dreams about making it back to the Class 5A state tournament for the first time since 2003, team basketball had to be the priority.
It's a concept that's clearly working for senior point guard Matt Leecy.
He doesn't want to talk about selfish goals, such as his college plans or his numbers. He's too busy living in the moment, which finds Ottawa atop the Frontier League standings and among the top 10 Class 5A teams in the latest Kansas Basketball Coaches Assn. poll.
Even so, one number speaks for itself when it comes to the 5-foot-9 1â2-inch sparkplug - his area-best 8.6 assists per game.
For Leecy, it's all about sharing the ball and sharing the credit.
You have a lot of guys who put up a lot of points, yet your role as the point guard is a little bit different. What's it like running the show in this type of offense?
We just have so many weapons. We're just explosive. I think it's incredibly tough for the defense. No one on the five guys out there can take a play off with us. My teammates are great. I just run the show. At the beginning of the year coach told us we were going to have to take all our individual goals and throw them out the window if we're going to ultimately reach the goals we have in mind for our team collectively. So that's what I've done this year and it's worked thus far, so I'm going to continue doing that.
When people look at a box score, the first thing they want to see is how many points everyone is scoring. But with you the number that really stands out is the assists. How much pride do you take in that area of the game as a point guard?
It means a lot to me. Points, everyone looks at those. I've scored before. My career-high is 28 in a game. I don't feel like, even from an assist standpoint, that I have anything to prove. It just comes naturally with my teammates. We've been playing with each other for years. We just know where everyone is on the floor, and we just click, and the numbers turn out how they do. I don't ever play with those in mind at all. ... Right now, I just feel playing that leadership role and making sure everyone's doing what they're supposed to be doing - as long as they're putting the points up it doesn't need to be me.
A lot of guys get excited by hitting a big shot or a tough shot or throwing down a dunk. Do you get that same type of rush when you're able to make a great pass and see it lead to something good?
Oh yeah. There's been multiple times this year when we've had that "and-one" play off a pass that I've made or whatnot. I do get that feeling that's probably similar to what those 6-foot-5 guys get when they throw down a dunk.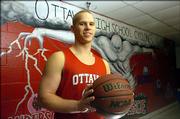 How much fun is it to play in coach Grover's up-tempo system compared to one that slows down and takes the air out of the ball?
It's the most fun out of anything. There's just no limits. There's no limitations. This type of system gives everyone a chance to meet their potential in whatever area. That's our strength. I feel like every night I work much faster than whoever we play. Up and down, that's just our style.
This group of players is the first in 10 years that doesn't have any state experience. How motivated are you to get this tradition-rich program back to that level?
We're extremely motivated. Last year, we feel like we had a big letdown, and we just had a few setbacks with various reasons with injuries and whatnot. Last year was a letdown disappointment for us. This offseason we really committed to making sure that didn't happen again this year.
You're kind of in a weird situation in the Frontier League in that you don't get to play a lot of Class 5A teams. Any concerns about being prepared and ready to go once you make that jump to sub-state and everybody's going to be on that level playing field?
A little bit, but not really. Our confidence is off the charts. I have great teammates and we're just excited. We don't get to play that many 5A schools, but we're not intimated by it.
Who are some of the teams you think you're going to have to fight through to get through sub-state and make it to the state tournament?
Emporia's probably the one that I think we'll ultimately have to go through to play at the state tournament. Beyond them, I haven't really looked into any of the other schools. I see how they're doing and stuff, but I don't follow who all they've been playing. My days are so limited that I try to keep focused on what's at hand. If I'm looking forward all the time I'll miss everything that's going by so fast.
Do you have any plans to move on and play ball at the next level?
Coming into the year, especially in the offseason when I worked, I didn't think so much with that in mind. I was thinking more about what we have to do to get things done this year. ... I make my plans without basketball in mind so that I don't get caught up with that hindering our success.
Copyright 2018 The Lawrence Journal-World. All rights reserved. This material may not be published, broadcast, rewritten or redistributed. We strive to uphold our values for every story published.