Port-au-Prince, Haiti — Gunfire erupted, killing one man Monday as angry supporters of presidential front-runner Rene Preval took to the streets to protest delays and rumored fraud in ballot-counting for the Feb. 7 election.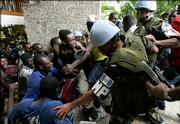 Witnesses said the gunfire in the capital's Tabarre neighborhood came from U.N. forces - a charge denied by the peacekeepers' spokesman.
A mob stormed the Hotel Montana in search of election officials they accused of trying to deny a victory to Preval.
"We will burn the entire city unless they give us the results!" vowed Jean Civil, among the Preval backers who set up a roadblock of burning tires.
At protests throughout the capital, crowds chanted demands that Preval be declared the winner. They denounced an early Monday update by the Provisional Electoral Council suggesting that the 63-year-old agronomist's lead had slipped to 48.7 percent, with about 90 percent of the vote counted. Preval must tally more than 50 percent of the votes to avoid a runoff against distant second-place contender Leslie Manigat.
Supporters of Preval and his exiled mentor, Jean-Bertrand Aristide, accuse political rivals of plotting with allies on the electoral council to deprive Preval of a first-round victory.
Preval supporters, who had marched peacefully in recent days, began to lose patience when the vote counting slowed over the weekend and projections of Preval's margin of victory were scaled downward. Suspicions rose further after the electoral council, composed mostly of Aristide opponents, canceled its daily briefing Sunday, citing security concerns caused by crowds massing outside the hotel. The tabulation center at the Montana was locked and empty Monday.
Electoral council employees did not show up for work "because they felt insecure," said David Wimhurst, spokesman for the 9,000-strong U.N. peacekeeping mission.
Wimhurst said peacekeeping troops fired two warning shots in the Tabarre neighborhood. Gunfire from other sources was heard moments later, he said. One man was killed and four were wounded in the neighborhood.
Copyright 2018 The Lawrence Journal-World. All rights reserved. This material may not be published, broadcast, rewritten or redistributed. We strive to uphold our values for every story published.