Baghdad, Iraq — Saddam Hussein reluctantly returned to the courtroom Monday morning after boycotting his trial's previous session. But after initial protests, the deposed Iraqi dictator watched with a smile as two former lieutenants called to the witness stand refused to help his prosecutors' case.
Apart from a three-way exchange between Saddam, his half-brother Barzan Tikriti, and Judge Raouf Rasheed Abdel-Rahman at the outset of the proceedings, the session Monday was among the most placid since the trial of Hussein and seven co-defendants began in October. It was a marked contrast to Hussein's last appearance, on Jan. 29, at which Tikriti was dragged out fighting with guards and Hussein and his entire legal team stormed out of the courtroom.
Saddam did not attend the court session that followed, and said Monday that he had been forced to return to his trial for the killing of more than 140 Iraqis in 1982.
Saddam came to court looking tired and wearing a dark coat, a blue-gray dishdasha robe and bedroom slippers, a change from his usual button-down shirt with no tie. Tikriti wore a white, Henley-style undershirt and long brown underwear, exposing more of his chest than is usually seen in a courtroom. After an unsuccessful attempt to persuade Abdel-Rahman that, as a cancer patient, he should be set free, Tikriti turned away from the court and sat on the floor for much of the trial.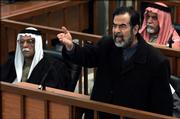 During the three-hour session, prosecutors produced documents from Hussein's reign in an attempt to link him to the executions of more than 140 Iraqis in the town of Dujail after residents there attempted to assassinate him in 1982.
The prosecutors asked two members of Saddam's former regime - his presidential office head, Ahmed Samarraie, and an intelligence officer, Hassan Obeidi - to discuss their role in the massacre and confirm their knowledge of the documents. But both men, the first regime officials to testify in the case, professed ignorance and said they had been forced to appear in court against their will.
"I don't remember anything because so many memos were going up and down," Samarraie said.
"In 1982, I was a low-ranking officer in Iraqi intelligence working in the legal department, and that had nothing to do with the Dujail case," Obeidi said.
Saddam smiled and occasionally snickered as the prosecutors made little headway. The trial continues today.
Copyright 2018 The Lawrence Journal-World. All rights reserved. This material may not be published, broadcast, rewritten or redistributed. We strive to uphold our values for every story published.