Philadelphia — Villanova went inside in the first half and stayed outside in the second. Add some solid defense and an offensive boost from an unlikely source, and the Wildcats came up with a way to beat No. 1 Connecticut.
Allan Ray keyed the Wildcats' 7-for-9 effort from three-point range in the second half, and fourth-ranked Villanova beat the Huskies, 69-64, Monday night, its first victory over a top-ranked team in nearly 11 years.
"It was a big test for us. UConn was a great team," said Ray, who had 19 of his 25 points in the second half. "A lot of teams didn't think we were going to win. It was just a great test for us to go out and see where we were at."
Ray had five three-pointers in a 22-4 run that gave Villanova (20-2, 10-1 Big East) the lead for good in its ninth straight victory. The Wildcats, who forced the Huskies into 17 turnovers, also got a lift from their center in an offense that relies on four guards.
The four guards account for 79 percent of the team's points, but center Will Sheridan, who averages 4.5 points per game, matched his career high with 13 points and grabbed 10 rebounds to help the Wildcats stand up to Connecticut's size advantage.
"We need to get our forwards involved. We've been working on it," Villanova coach Jay Wright said. "Will has been defending, making plays, but not scoring as much. Tonight he took it to another level in a big game against an outstanding team, which I think tells you a lot about Will Sheridan."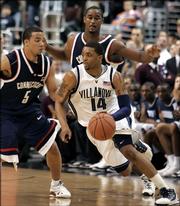 Sheridan, not known for his outside shot, hit two big jumpers from the corner in the second half.
"They made threes, Sheridan hit some tough baselines. I don't know what adjustments you'd like us to make for Allan Ray's 28-footers," Connecticut coach Jim Calhoun said.
Rudy Gay had 19 points and 10 rebounds for the Huskies (22-2, 9-2), who had an 11-game winning streak snapped and dropped to 7-1 against ranked teams this season.
Connecticut had a chance to tie in the final seconds but Marcus Williams lost the ball for the Huskies' final turnover and Ray made two free throws with 2.2 seconds left to make it 69-64.
No. 5 Gonzaga 97, Portland 83
Portland, Ore. - Adam Morrison had 33 points, and J.P. Batista added 32 to help Gonzaga (21-3, 10-0 West Coast Conference) win its 12th straight game.
No. 13 Boston College 59, Stony Brook 47
Boston - Craig Smith scored 19, helping Boston College reach 20 victories for the fifth time in six seasons. Tyrese Rice added 10 points for the Eagles (20-5).
Copyright 2018 The Associated Press. All rights reserved. This material may not be published, broadcast, rewritten or redistributed. We strive to uphold our values for every story published.