Attention, drivers: the speed has been lowered for good on a stretch of road that's about to be transformed from a rural highway to an urban thoroughfare.
Many drivers are being caught speeding in the 40 mph "work zone" area on West Sixth Street west of Wakarusa Drive - the site of a nearly finished $8 million road-widening project. Some drivers question why police are still bothering to stop and ticket people there, given that there's no apparent road work being done anymore.
"There's not an orange cone there. There's no trucks, no bulldozers, nothing," said Lana Nobo-Garcia, 27, who was stopped early this month for driving 50 mph in a 40 mph zone as she drove into Lawrence off the Kansas Turnpike. "I feel like I got bamboozled."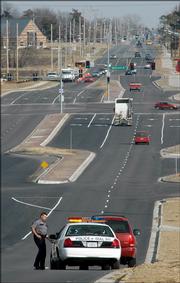 But work zone or no work zone, drivers should get used to the slower speed in the area. Even after the final touches are put on the project this spring, the speed limit there will remain at 40 mph, Joe Blubaugh, a spokesman for the Kansas Department of Transportation, said Monday.
Blubaugh said development planned for the area will turn that part of the road into an urban arterial similar to 23rd Street.
Since July, police have issued 1,070 speeding tickets on West Sixth Street between Wakarusa Drive and the Kansas Highway 10 interchange, according to Lawrence Municipal Court figures. The biggest month for tickets was January, with 359 of them being issued - more than the previous three months combined, and after most of the work crews had gone.
Kim Murphree, a Lawrence police spokeswoman, said KDOT asked police to enforce the work-zone speed limit there starting last summer, and that work has continued.
"We've made that part of our regular enforcement," she said. "It's nothing different than what we normally do."
City prosecutor Jerry Little said that in many cases, officers were letting drivers, including Nobo-Garcia, off the hook somewhat by not doubling the fine, which is a standard practice for speeding tickets issued in a work zone. For example, if drivers are less than 10 mph over the speed limit they're getting fined $30 instead of $60.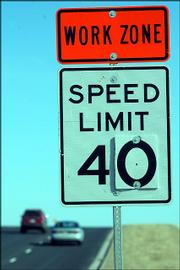 Little said a handful of drivers had taken their cases to trial.
"Usually the complaint (from motorists) is that it's not signed very well. They say there are no signs until you get right in to the construction zone," Little said. "But we've had several trials, and the judge has found the signs are appropriate."
KDOT spokesman Blubaugh said the area was likely to remain designated as a work zone until May. He said crews still needed to paint permanent road stripes and install permanent signs, as well as seed and lay sod along the road.
He said the company painting the road stripes only guaranteed its work if it was done after winter ends.
"If the pavement's too cold, the striping won't stick," he said.
Blubaugh also pointed out that two KDOT employees were killed in northeast Kansas in summer 2005.
"There's a reason why we have speed limits out there," he said.
Blubaugh said it didn't make sense to temporarily remove the work-zone speed limit while the work was on hiatus, only to decrease it again later.
Copyright 2018 The Lawrence Journal-World. All rights reserved. This material may not be published, broadcast, rewritten or redistributed. We strive to uphold our values for every story published.