The consensus of parents watching their children play at South Park on Monday seemed to be that 7 years old and 80 pounds was a bit big for a booster seat in the car.
But a measure requiring older children be strapped in got strong approval Monday in the Kansas House, so parents said they were willing to give it a try.
"I suppose they know what they're doing, what's the safest," said Catie Donovan, who has a 3-year-old daughter.
Safety was a key argument in getting the bill approved in the House, where it had failed numerous times in the past.
"This is a chance to make a difference," said Cindy D'Ercole, a spokeswoman for Kansas Action for Children. "How many times do you get a chance to vote for something that will make a difference?"
More than 30 House members who voted against booster-seat legislation last year voted for it Monday to send it to the Senate on a surprising 90-29 vote. Last year, the Senate approved a similar measure 36-3.
State law says children under 4 must ride in child safety seats and mandates that children ages 4 through 13, drivers and front-seat passengers wear seat belts.
But safety advocates say without booster seats for children over 4, belts often don't fit them properly and can injure them in a crash.
The legislation adopted by the House would require children ages 4 through 7 to ride in booster seats if they weigh 80 pounds or less or are under 4-feet-9 inches tall. The bill would triple the fine for violating the law from $20 to $60.
The House also approved a measure that made it a misdemeanor to leave a child under age 9 in a car without someone at least 13 years old. The bill passed 79-40.
House action came as officials kicked off a weeklong effort to increase awareness about child passenger safety.
Motor vehicle crashes are the leading killer of children ages 1 to 17. "Child passenger safety is not just about babies and toddlers. It's a commitment that lasts a lifetime," said Jan Stegelman, Safe Kids Kansas coordinator.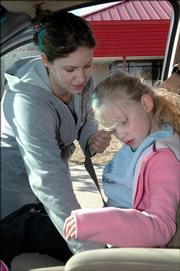 "Too many kids move from a booster seat to a safety belt before they're big enough," she said.
In Kansas, infants and toddlers ride in safety restraints 81 percent of the time, but children ages 4 through 7 ride in safety restraints only 49 percent of the time.
"That's an alarming difference, and it shows that many parents and caregivers are unaware of the importance of booster seats," Stegelman said.
In addition to child passenger safety, Gov. Kathleen Sebelius on Monday announced formation of a task force that will recommend ways to reduce traffic fatalities.
"On average, we're losing more than one Kansan a day to traffic accidents," Sebelius said. "These are moms and dads, sons and daughters, friends and loved ones. We need to find ways to reduce the number of deaths and injuries that happen on Kansas roads," she said.
Copyright 2018 The Lawrence Journal-World. All rights reserved. This material may not be published, broadcast, rewritten or redistributed. We strive to uphold our values for every story published.