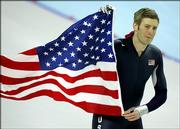 Turin, Italy — Joey Cheek never has done things by the book. In the sixth grade, he insisted on reading The Wall Street Journal on the way to school. At 14, he watched Johann Olav Koss win three speedskating gold medals at the Lillehammer Olympics and decided that's what he wanted to do.
"There's only one problem," Cheek's mother told him at the time. "We live in North Carolina."
Details, details.
Cheek overcame that little obstacle on the way to a dominating victory Monday in the Olympic 500 meters. Then, in keeping with his unique approach to life, he said he would donate his $25,000 U.S. Olympic Committee bonus to an organization run by Koss, with hopes of helping war-torn Africa.
Cheek skated the two best races of his life, posting a combined time that was 0.65 seconds ahead of the silver medalist, Russia's Dmitry Dorofeyev. That's a huge gap in a furious sprint race normally decided by hundredths of a second. South Korea's Lee Kang Seok took the bronze.
Copyright 2018 The Associated Press. All rights reserved. This material may not be published, broadcast, rewritten or redistributed. We strive to uphold our values for every story published.