Miami — Dwyane Wade led the comeback and then the celebration, skipping along the sideline and high-fiving jubilant fans.
The Miami Heat finally showed they can beat the elite, especially when they have Wade as a weapon. He scored the Heat's last 17 points, including the game-winner on a 16-footer with 2.3 seconds left, and they edged the Detroit Pistons, 100-98, Sunday.
Touted before the season as title contenders, the Heat improved to 1-7 against the NBA's four top teams. But they needed a frantic rally to do it.
Miami trailed 90-83 with 41â2 minutes left when Wade took over. His 17 consecutive points were a franchise record, and he finished with 37.
"It was a lot of fun," he said. "It was time for me. I had to come through and help this team win. I put it on my shoulders at the end to make some plays."
Wade sank his final seven shots and scored 28 points in the second half.
"Dwyane took the game over," Detroit coach Flip Saunders said. "He got a lot of shots up, and we couldn't get any help over."
Shaquille O'Neal kept the Heat in the game early and finished with a season-high 31 points.
"It was a big win," O'Neal said. "We could have let it slip away, but we kept on fighting. Now we have to develop some type of consistency. Anybody can win one game. We have to do that night in and night out."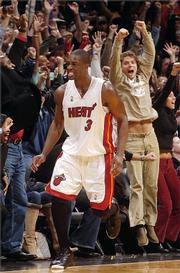 Chauncey Billups had 29 points and 10 assists for the Pistons. They've lost three of their past five games but still have the NBA's best record at 41-9.
"The Heat might look at this as being bigger than it really is," Billups said. "It's just another win. But they have struggled against teams with better records, so beating the team with the No. 1 record is a big win for them."
After Wade's basket with 55 seconds left made the score 98-all, Detroit missed twice, and the Heat regained possession with 25 seconds to go.
Wade walked the ball up court, letting the clock run down. He then darted to the left against Tayshaun Prince, pulled up and hit a jumper.
The Pistons' inbounds play following a timeout went awry, and Prince launched a three-point try after the buzzer that missed. Detroit went 5-for-15 in the fourth, scoring only 14 points.
"We just missed shots, and the young boy hit his shots - that's all," Pistons forward Rasheed Wallace said. "It was a good game. It was what the people wanted, and we supplied it."
The Heat overcame an 84-71 deficit at the start of the fourth quarter, making the comeback their largest this season. Making the win even sweeter: Detroit beat Miami in seven games a year ago in the playoffs.
Spurs 92, Pacers 88
Indianapolis - Manu Ginobili scored 10 of his 29 points in the final 1:28, and San Antonio beat Indiana for its league-best ninth straight win.
Tim Duncan added 10 points and 11 rebounds, despite being held to 4-for-15 shooting. Tony Parker, the Spurs' other All-Star, had 17 points and six assists.
The Spurs improved to 6-0 on their eight-game road trip that ends Wednesday at Philadelphia. They also snapped the Pacers' four-game winning streak.
Wizards 107, 76ers 97
Washington - Gilbert Arenas scored 27 points as Washington completed a perfect five-game homestand by beating Philadelphia.
The Wizards have won five in a row for the first time since Jan. 2-15, 2005, when they won seven straight. They've won seven consecutive home games.
Celtics 102, Magic 94
Boston - Paul Pierce scored 31 points, and Wally Szczerbiak added 24 as Boston beat Orlando in Grant Hill's return to the Magic lineup.
The TD Banknorth Garden was about a third full as a major snowstorm in the Northeast dumped more than a foot of snow in the area.
Raef LaFrentz had 16 points before fouling out, and Delonte West scored 14 for Boston, which had only three points from its reserves. Ryan Gomes, making his second career start, had a career-high 14 points.
Nets 94, Bucks 79
East Rutherford, N.J. - Vince Carter scored 24 points, and Jason Kidd added 16, leading New Jersey over Milwaukee.
The win was the 13th in 14 home games for New Jersey (27-22), which had a 12-game home winning streak snapped by San Antonio on Friday night.
The game was played in front of approximately 5,000 fans, who braved a record storm that dropped two feet of snow in the New Jersey area.
Starting center Nenad Krstic was ejected for a scuffle with Milwaukee's Jamaal Magloire just before halftime, but the Nets got 16 points off the bench from 39-year-old Clifford Robinson and 10 from fellow reserve Scott Padgett.
Michael Redd paced Milwaukee (26-24) with 27 points, while T.J. Ford added 18.
Raptors 114, Blazers 81
Toronto - Morris Peterson scored 15 of his 22 points during a third-quarter run, and Toronto routed Portland.
Mike James had 19 points for the Raptors, who shot 59 percent and outrebounded the Trail Blazers 48-32.
Charles Smith had a team-high 11 points for the Blazers, who fell to 0-4 in their seven-game road trip. They had lost both of their last two games by 32 points.
Portland fell behind by as many as 15 in the first, 23 in the second, 31 in the third and 35 in the fourth.
Rockets 90, Knicks 83
Houston - Yao Ming had 24 points, eight rebounds and four blocks for the Rockets in their sixth victory in their last seven games.
David Wesley added 15 points, Rafer Alston had 14 points and seven assists, and Juwan Howard had 10 points and eight rebounds for Houston.
Quentin Richardson scored 19 points, and Jamal Crawford added 15 for the reeling Knicks, who have lost nine in a row and 15 of their last 16. New York outrebounded the Rockets 45-38.
Houston's Tracy McGrady was 3-for-20 from the field and scored seven points.
Nuggets 120, Sonics 112, OT
Seattle - Carmelo Anthony scored 33 points, and Andre Miller scored seven of his 21 in overtime for Denver.
The Nuggets won consecutive games for the first time since Jan. 23 and 25, despite going the last 3:56 of regulation without a field goal. Kenyon Martin also had 22 points and 10 rebounds for Denver.
Ray Allen led Seattle with 34 points, but scored just two in overtime. The Sonics played without second-leading scorer Rashard Lewis, who missed the game due to a right thigh injury.
Damien Wilkins scored 21 in Lewis' place, and Luke Ridnour added 15, but the Sonics lost for the fifth time in six games.
Kings 109, Hawks 84
Sacramento, Calif. - Ron Artest had 20 points, six assists and six steals to help the Kings win for the fourth time in five games.
Kevin Martin also scored 20 points for Sacramento, which has won eight straight at home. Kenny Thomas had 17 points and 10 rebounds.
Artest had a strong second quarter to help Sacramento take a 48-40 lead at halftime. He made two three-pointers and scored all 14 of his first-half points in the period.
Joe Johnson and Josh Childress scored 13 points apiece for Atlanta.
Bulls 97, Clippers 91
Los Angeles - Kirk Hinrich scored 10 of his 17 points in the fourth quarter after getting into early foul trouble, and Jannero Pargo added 17 off the bench for Chicago.
The Bulls got 46 points from their reserves in the finale of a 2-5 road trip against Western Conference teams. The victory, coupled with Philadelphia's loss at Washington, put Chicago within two games of the 76ers for the eighth and final Eastern Conference playoff spot.
Elton Brand had 29 points and 15 rebounds for the Clippers after tying a career-high with 44 points in Friday's win against Memphis.
Copyright 2018 The Associated Press. All rights reserved. This material may not be published, broadcast, rewritten or redistributed. We strive to uphold our values for every story published.