A possible gas leak at a Eudora residence sent a former Eudora city councilman to a Kansas City hospital Sunday afternoon with carbon monoxide poisoning.
Eudora and Lawrence-Douglas County Fire & Medical crews arrived in the 900 block of Pine Street around 3:30 p.m. after former Councilman Rex Burkhardt called, saying he suddenly felt light-headed, acting Eudora Fire Chief Mike Underwood said.
When they arrived Burkhardt was unconscious, but quickly awoke and was responsive when paramedics transported him to the hospital.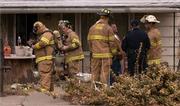 Burkhardt was alone in the house at the time, Underwood said.
Underwood said that the source of the carbon monoxide was still under investigation, and he couldn't tell whether there was a gas leak or if it came from a different source.
Underwood said that this type of problem is common in the winter when people run their furnaces more often, and said that buying and using a carbon monoxide detector could typically prevent similar incidents in residents' homes.
Copyright 2018 The Lawrence Journal-World. All rights reserved. This material may not be published, broadcast, rewritten or redistributed. We strive to uphold our values for every story published.